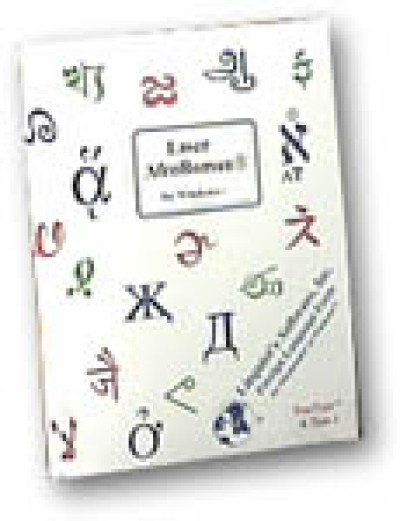 AfroRoman for Windows in Unicode(Times-, Helvetica- Garamond-, Palatino-, and Zapf Chancery)
Buy now for

$249.95


We ship worldwide. Bulk and academic discounts available -- contact us for pricing.


Ships within 3 business days.




AfroRoman® in Unicode™ is available for both Windows and Macintosh and provides professional-quality, Unicode-encoded fonts in TrueType® OpenType® format in five typestyles (Times®-, Helvetica®-, Garamond-, Palatino®-, and Zapf Chancery®-styles), each in plain, bold, italic, and bold-italic styles (except AfroRomanChanU, which is plain only. AfroRoman in Unicode (hereafter AfroRomanU) supports more than 1540 African languages, plus English and other west European (or Latin 1) languages. These beautiful, unique fonts contains 1947 letters, accents, diacritics, and accented character combinations that are easily typed with the included keyboard software. The AfroRomanU fonts support the following African languages (see the expanded lists under Bantu, Chadic, and Dinka):

Acholi
Afrikaans
Bantu
Bobangi
Buluba-Lulua
Chadic
chiKaranga
Chishona
Dinka
Ewe
Fulani-Adamawa
Fulani
Ga
Hausa
Igbo
Kanuri
Karanga
Kinyarwanda
Kongo
Lu-Gande
Masai
Matabele
Mende
Mole
Namaquah
Ndebele
Northern Sotho
Nuer
Nyika
Pedi
Serere
Setswana
Shona
SiSwati
Somali
Sotho
Swahili
Tebele
Temne
Tswana
Twi
Umbundu
Vai
Western Sotho
Wolof
Wolof of Senegal
Yao
Yoruba
Zulu

*Ewe is also known as Ebwe, Efe, Ehwe, Eibe, Eue, Eve, Gbe, Krepe, Krepi, Popo, and Vhe.

The AfroRomanU fonts also support the following Latin 1 languages: Albanian, Basque, Catalan, Danish, Dutch, English, Faroese, Finnish, Flemish, French, Galician, German, Hawaiian, Icelandic, Indonesian, Irish, Italian, Malay, Norwegian, Portuguese, Spanish, Swahili, and Swedish.

AfroRoman in Unicode for Windows includes six keyboard layouts that provide four-characters-per-key input (instead of the normal two-characters-per-key) in Windows Vista, XP, 2000 and NT4. The keyboards are phonetic, based on the US keyboard, and allow easy input of all characters and diacritics supported by the fonts.




Categories: Fonts, Software - Windows, System
Supporting languages: Acholi, Afrikaans, AfroRoman, Agni, Akan, Ashanti, Bantu, Beluba, Bemba, Bobangi, Buluba-Lulua, Chikaranga, Chiluba, Chinyanja, Chiswina, Dinka, Estonian, Ewe, Fang, Fulani-Adamawa, Fulfude, Ga, Ganda, Gikuyu, Hausa, Hawaiian, Hottentot, Ibo, Igbo, Kanuri, Kikuyu, Kinyarwanda, Kongo, Kpelle, Krio, Latin, Lingala, Lithuanian, Luba, Luganda, Malagasy, Malinke, Masai, Mashona, Mole, More, Mossi, Namaquah, Nyanja, Nyika, Rundi, Rwanda, Santee, Sesotho, Setswana, Shona, Shuna, Siswati, Slovenian, Somali, Sotho, Swahili, Swazi, Tebele, Temne, Tuswana, Twi, Umbundu, Wolof, Yao (Asian), Yoruba, Zulu
Platforms/media types: Windows NT, Windows XP, Windows 2000, Windows Vista
Specifications: The TrueType® fonts install into Microsoft® Windows Vista, XP, 2000, or NT, and work with all Windows Vista-, XP-, 2000-, and NT-compatible applications that allow the user to select fonts from a font menu. (A previous version for Windows Me, 98, or 95, and a custom version compatible with Windows 3.1 is available by request.) The product includes a User's Manual, keyboard layout chart(s), and Character Code Table(s) showing every character in the font(s). The included keyboard driver(s) allows access to four characters per key (instead of the normal two) and alternate keyboard layouts. All documentation is in PDF format, available on the Windows Start menu, and can be viewed and/or printed using Adobe Reader. The fonts will print to any printer at the highest quality allowed by your printer.

Applications

Any Unicode-compatible application, such as Microsoft Word 2007, 2003, 2002, 2000, or 97, is compatible. The free OpenOffice.org Writer, version 3.0 is compatible. Adobe® InDesign®, QuarkXPress 7.0 and above, and Microsoft Publisher are compatible.
Non-Unicode-compatible applications such as Word 95 (Word 7) and Word 6 are not compatible. Quark XPress 6.5 and older, PageMaker, FrameMaker, Corel WordPerfect, and Lotus Word Pro are not compatible.
Microsoft Office 2007 or 2003, or OpenOffice.org 3.0 is required to use the included AfroRomanU OT and YorubaLSU OT keyboard layouts for the most intuitive input order (letter-accent-accent). Users of any other Unicode-compatible application are fully supported by the AfroRomanU and YorubaLSU Deadkey keyboard layouts, which provide dead key input (accent-letter). All keyboard layouts provide full access to all letters and diacritics in the fonts; they differ only in input method. (Note that Office 2007 and 2003 only install into Windows Vista, XP or 2000 SP3 or later.)
Microsoft PowerPoint 2003 (included in Microsoft Office 2003) is not compatible with AfroRomanU fonts. All text is changed to the Arial font, whether typed with the keyboard, input using Insert Symbol, or pasted from Word using the Windows clipboard. PowerPoint 2003 users should type their text in Word or another Unicode-compatible application, and save the text as a graphic for import into PowerPoint. Users can also use WordArt to create their text. To do this in PowerPoint go to Insert, Picture, WordArt, and type your text, formatting it as desired. Alternatively, users can type directly into PowerPoint using our non-Unicode AfroRoman fonts. (PowerPoint 2007 is compatible with AfroRomanU fonts. Versions before PowerPoint 2003 have not been tested for compatibility.)

Notes

Printer: The fonts will print to any Windows printer at the highest quality allowed by your printer.