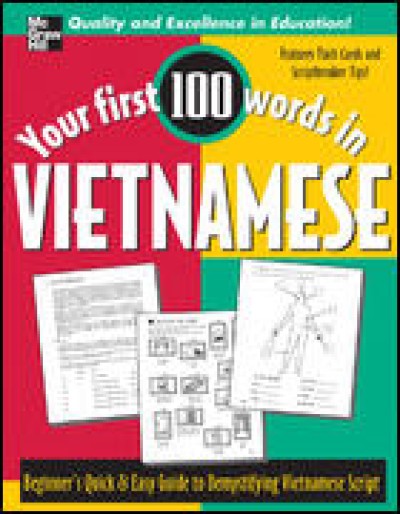 Your First 100 Words in Vietnamese (Paperback)
Buy now for

$12.95
We ship worldwide. Bulk and academic discounts available -- contact us for pricing.
Ships in 3 - 5 business days.
Unravel the mystery of Vietnamese script
In the Your First 100 Words in Vietnamese, you learn to decipher and read a new script by learning 100 primary words in Vietnamese. Covering the language of Vietnam, this new addition to the Your First 100 Words In series can be used as a supplement for language courses or for independent learning.
Unravel the riddle of Vietnamese script
Finally overcome that major obstacle stopping you from making a start in Vietnamese--comprehending its alphabet! Whether you're learning on your own or in a class, thanks to Your First 100 Words in Vietnamese you will no longer beperplexed by the numerous accents and tonal marks. Each of these basic words is clearly presented in its Vietnamese alphabet, along with its correct pronunciation and English meaning. And every word is accompanied by a cartoon image, so you can visualize a word and remember what it means without much effort!
With help from Your First 100 Words in Vietnamese, you will:
Become familiar with the Vietnamese alphabet
Learn 100 words in eight basic topics--around the house, animals, around town, clothes, opposites, and more--so you can communicate with ease
Use Scriptbreaker Tips to help you crack the code as you read Vietnamese words
Speak Vietnamese confidently with help from the Pronunciation Guide
Sharpen your knowledge of Vietnamese words and their meanings and
pronunciations using Tear-Out Flash Cards
Check your progress with Extensive Games and Puzzles




Product ID: 107087 ISBN-13: 9780071469241

Date February 1, 2006
Format Paperback, 80 pages