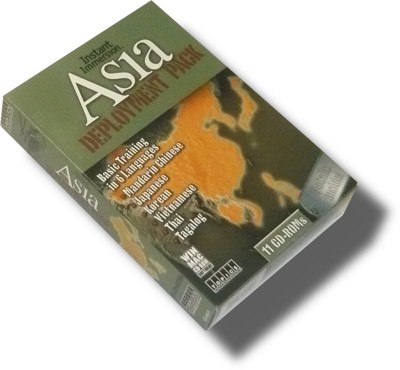 Instant Immersion Asia Deployment Pack
Buy now for

$45.00

(regularly $59.95)


We ship worldwide. Bulk and academic discounts available -- contact us for pricing.


In Stock. Ships within 2 business days.




Designed to facilitate communication and easy language transition while on foreign assignments, the Instant Immersion Asia Deployment Pack is one-stop multilingual learning on CD-ROM. Designed specifically for personnel deployed to facilities in and around Vietname, the Philippines, Seoul, Bangkok, Japan, and China, the Pack offers grounded, progressive software instruction in 6 Asian Language: Mandarin Chinese, Japanese, Korean, Vietnamese, Thai, and Tagalog.




Product ID: 500175 UPC: 781735505717 ISBN-10: 1591504848

Categories: Classroom/Schools, Classroom/Teaching Materials, Learn
Supporting languages: Chinese, Japanese, Korean, Tagalog, Thai, Vietnamese
Platforms/media types: Mac, Windows XP, Windows 2000, Windows ME, Windows 98
Specifications: System Requirements

Windows 98/2000/ME/XP
Macintosh OS 9 or X

Hardware

Color display
Sound
CD-ROM or DVD-ROM drive
Microphone (recommended)

Mandarin Chinese. The main dialect of Taiwan and the People's Repubic of China; it is also one of the 4 official languages of Singapore, and the world's most widely-spoken language.
Japanese spoken by more than 99% of Japan's population, and the 6 most spoken language in the world.
Korean the predominant tongue of North and South Korea, with significant speaker populations in the People's Republic of China.
Vietnamese the national and official language of Vietnam, and the mother tongue of 87% of its population.
Thai the main language of Bangkok and regions of Thailand's Central Plain.
Tagalog one of the major languages of the Philippines, especially metropolitan Manila and other regions of Luzon.