Most Popular Turkmen Language Product Types
All Turkmen language product types
---
Turkmen, also known as Turkoman, is spoken principally in the new nation of Turkmenistan (capital: Ashkhabad), lying on the eastern shore of the Caspian Sea and bordering Iran and Afghanistan. It is spoken here by about 3 million people, or ¾ of the coutry's population, and by another one million in Iran. Closely related to Turkish, Turkmen is a member of the Turkic branch of the Altaic family of languages.

***

Turkmen is spoken/used in the following countries:
Afghanistan, Iran, Turkmenistan.
Language Family
Family: Altaic
Subgroup: Turkic
Branch: Southwestern(Oghuz)

Copyright © Kenneth Katzner, The Languages of the World, Published by Routledge.
---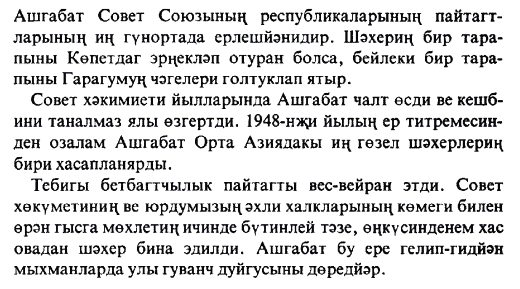 ---
Ashkhabad is the southernmost of the republic capitals of the Soviet Union. On one side of the city lie the foothills of the Kopet-Dag; just on the other side the sands of the Kara-Kum Desert.
Under Soviet rule, Ashkhabad grew rapidly and became a new city. Before the earthquake of 1948 Ashkhabad was deservedly considered one of the most beautiful cities of Central Asia. The calamity reduced the city to rubble. With the help of the Soviet government, and all the brotherly peoples of the country, a completely new city arose out of the ruins. Today Ashkhabad is a delight to everyone visiting it.