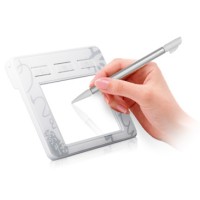 Writing pad - EZ Go Jr. - for Chinese, Japanese and English input
Buy now for

$89.95

(regularly $99.95)


We ship worldwide. Bulk and academic discounts available -- contact us for pricing.


Ships within 2 business days.




Chinese writing pad - EZ Go Jr.

Plug and write. No need to set up or do any installation!

Features


No installation, no setup, just intuitive operation
No complicated installation necessary. Simply connect to the computer and start working away.
Device includes a writing/mouse quick switch button and shortcuts. In mouse mode, EZ Go Jr. acts like a mouse and in handwriting mode, allows quick correction of candidate words.
Equipped with 1GB of flash memory.


Smart Handwriting for Easy Input
Supports handwriting input for traditional/simplified Chinese, English and Japanese with an ultra-high 96% recognition rate.
Supports Office and MSN software, learning of personal writing styles and can also be set to convert traditional Chinese into simplified or vice versa.
Includes auxiliary functions such as word association/lexicon, special symbols table, fuzzy search, homonyms, dictionary search,
Mandarin/Cantonese pronunciation, color drawing and sound effects to make writing in Chinese even easier. (i.e. it speaks!)



In the Box


2.8"x 2" inch Handwriting Pad
Pen
Registration card

1 year warranty




Category: Writing Pad
Supporting languages: Chinese, English, Japanese
Platforms/media types: Windows
Specifications:
Thin, Light and Compact for Portability
An ultra-thin handwriting pad measuring just 4mm in thickness.
Weighs just 55g and can be carried in a pocket.

Intel Pentium processor or compatible
Windows 8 desktop mode
Windows 7/Vista/XP
128 MB RAM
200MB disk space
USB port


Overview Everyone is now familiar with the Plug & Play feature supported by USB ports so Penpower has now come up with the innovative "EZ Go Jr.," the first "Plug & Write" input device in the world! No installation or configuration is necessary so senior citizens who like to stay up to date no longer have to struggle with a complicated installation process or ask a computer engineer for help. This user-friendly product delivers handwriting recognition when plugged into any computer! The EZ Go Jr. can also act like a flash disk for taking important documents with you. For business travelers, having one device that does the work of many is just the kind of exceptional mobility they need. EZ Go Jr. is equipped with the rich features of Penpower handwriting products such as Traditional Chinese/ Simplified Chinese/ English/ Japanese/ Text/ Symbol inputs. You can write in traditional or simplified characters and it can memorize personal handwriting and text strings for direct input into Office software, browsers, instant messengers (MSN, Skype, QQ…) and other software. Word association/lexicon, special symbol tables, fuzzy search, homonyms, dictionary search, string learning and Mandarin/Cantonese pronunciation are also included. All these features mean handwriting input is not only natural but also fast and accurate. Users can also use their handwriting for communications such as document signatures, e-mail diagrams and MSN scribbles. Such a high level of customization means your EZ Go Jr. is not only smarter but also more portable.