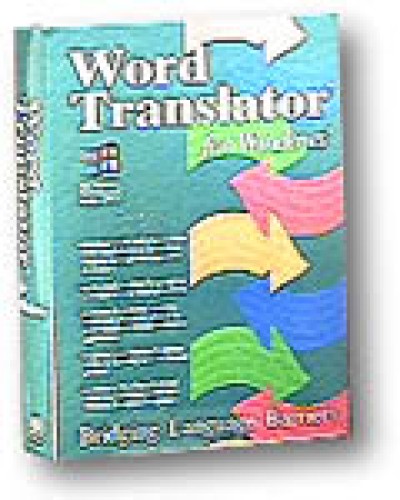 Word Translator Swedish I Windows CD (approx 40K entries)
Buy now for

$29.95

(regularly $69.95)

We ship worldwide. Bulk and academic discounts available -- contact us for pricing.


* * * This item is a SPECIAL ORDER and may not be canceled, is non-refundable, and must be prepaid. Click for more details. * * *


Ships within 2 business days.
General Information
---
Word Translator for Windows is a bilingual, bi-directional dictionary program that has word-by-word and phrase-by-phrase translation capabilities. It is not a "machine translator" where one could expect to, for example, load an English document, push a button and obtain a perfect translation to the other language without any effort whatsoever. Many consumer language programs on the market today claim to be able to accomplish "machine translation" when, in fact, they actually operate much like Word Translator in translating text word-by-word and phrase-by-phrase

Word Translator assumes that the user has at least a minimal knowledge of the other language because they must be able to select translation(s). Word Translator is a wonderful tool for language students, professional translators or anyone in between. For language students it can help improve vocabulary and comprehension. For professional translators it can eliminate a great deal of "grunt" work and quickly provide a rough translation, most often cutting translation time by 50% or more.
Word Translator provides a number of different "operation modes" to help the user including a word translation mode, two spell-checking modes, a prediction mode and two document translation modes.

Word Translator works in conjunction with most major Windows word processors (e.g. Word., WordPad, WordPerfect, MS Works) and many major applications including MS Publisher, Access and Excel. For Western European languages Word Translator can even be used with Windows Write or Notepad. Special Features

---



TrueType Font using the standard Windows East European Code Page (Code Page 1250) scalable from 8 to 72 points in regular, regular bold, italic and italic bold

Default keyboard layout
Keyboard Layout Editor window that allows keyboard "re mapping" to any configuration

Keyboard Hot Key to quickly toggle between the "mapped" keyboard and the standard keyboard
Keyboard Layout Icon/Window to view the "mapped" keyboard layout

Code Page Text Converter program to convert text to/from Code Page 1250 Croatian grammar reference help file.
Any and all bi-directional language dictionaries can be installed on the same computer and directory and accessed from the same Word Translator program

Each language version contains two "paired" or "coupled" dictionaries. For example, with any to/from English dictionary, there is both an English-?????? and a ??????-English dictionary
Depending upon the specific language, each "paired" dictionary contains from approximately 10,000 to over 150,000 "base word" and "base phrase" entries in both "sides" of the "paired" dictionaries--roughly half one way (e.g. English to ??????) and half the other way (e.g. ?????? to English). A "base word" or "base phrase" is any word or phrase for which there exist one or more associated translations to the other language.

Some to/from English language versions have more than a single size available. The sizes (I, II, III, IV) only reflect a different number of combined source language "base" entries.
All smaller sized dictionary modules are created from the largest available dictionary module for that language. The size designations (I, II, III, IV, V, et cetera) only reflect dictionary modules with a different number of entries. III-sized language dictionary modules will usually contain all the entries contained in the I and II sized dictionary modules plus more. Likewise, II-sized dictionary modules usually contain all the entries contained in the I-sized dictionary modules plus more.

A single "base" dictionary entry can be an individual word or a multiple word phrase. The number of entries does not include the number of translation(s) associated with any "base word" or "base phrase," consequently, the total number of words contained in any "paired" dictionary is more than double if not 2 1/2 to 3 times the total number o f"base" entries.
Users can add any number of new words, phrases and/or translations to the dictionary. The only limit is the size of their hard drive.

The program automatically "writes" reverse translations (to the "paired" dictionary) of each new entry made. For example, if the user were to add the new English "base phrase" "new car" with the translation XXXX, the program will automatically "write" XXXX to the "paired" dictionary as a "base phrase" with "new car" as the translation.
Comments from users:
"For several years I have been making daily use of Word Translator for translating Russian....I should be lost without it!"
"I just received Word Translator in the mail and I have not started using all the features of the program but it has already increased my productivity by 50%"
"In the beginning I thought the program was not very useful, but as I started customizing the dictionary I found out that it got more and more useful up to the point where I now find it very useful and indispensable in my work as a translator."
"I have used some of the finest translation tools that there are on the market, but I find that Word Translator does the same at a fraction of the price. It does not take up many system resources, it is fast and one can customize its dictionaries or create new ones with ease"
"I am amazed at the wide selection of languages that come with your software. Your software is fast, easy to use and takes up very few computer resources. I am very impressed!"
----------------------------------------------------------------------

Word Translation Mode -- quickly translate individual words in any word processor document to/from either of the "paired" languages

Two Document Translation Modes -- translate text word-by-word and phrase-by-phrase inside your word processor. One mode is interactive while the other is "automatic" (using the first listed translation for all recognized words or phrases). Both modes require some basic knowledge of the language being translated to/from English.
Two Spell-Checking Modes -- spell-check in the "source" language of any dictionary module. As-You-Type Spell Checking or (the more traditional) Highlighted Text

Prediction Mode -- displays a listing from your dictionary after you have typed a predetermined number of characters to help spell long or unfamiliar foreign words
Speech Utility -- record and save pronunciations and, then, playback the pronunciation of any "base word" or "base phrase" entered in the "source" language of any dictionary module. All pronunciation recordings are permanently associated with the "base word" or "base phrase" in the "source" language dictionary. Record practice pronunciations and play them back against those previously recorded and saved. No prerecorded Croatian speech is included on the CD ROM at this time.

Grammar Reference Help File -- a quick grammar reference in Windows Help file format included with many languages

Language Interface-- for many languages, all program buttons, interactive messages, screen text and other program messages can be easily and quickly changed from the English "default" to the "paired" language. For example, with a Brazilian Portuguese-English & English-Brazilian Portuguese version, you may select either English or Brazilian Portuguese as the language used to label and/or display all program buttons, interactive messages, screen text and other program messages