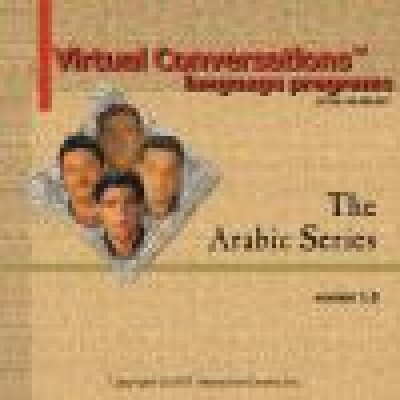 Virtual Conversation(R) Arabic Series - EPW
Buy now for

$70.95

(regularly $99.95)

We ship worldwide. Bulk and academic discounts available -- contact us for pricing.


Ships in approximately 8 business days.




"It is probably the best tool that I have seen in language learning." - DLI Student

This four Virtual Conversations(R) programs is for Arabic linguists. Each of the programs allows the user to gather information through direct dialogue with a native Arabic speaker. Each character presents the user with a problem that can be resolved through inference from the information obtained. Each simulation includes a video Instructor who helps the user pronounce the questions and phrases necessary to conduct the interview.

The Enemy Prisoner of War is an Iraqi soldier captured near the Kuwait border. He has information about troops, weapons, and attack plans. He speaks in Iraqi dialect. The user may interrogate the EPW in either Modern Standard Arabic (MSA) or Iraqi. The objective is to determine the veracity of his story and to recommend the appropriate action.

The Pilot is an officer in the Iraqi air force who has decided to defect. He has valuable military information. The user may interrogate him in either Iraqi dialect or MSA; his responses are a natural mix of dialect and MSA. The objective is to determine if the pilot is a legitimate defector and evaluate his potential intelligence value.

The Civilian …migrť was a student at Baghdad University, arrested for political reasons. When finally released, he embarked on a harrowing escape across Iraq. He is requesting political asylum. The user must speak MSA to interrogate the civilian, who responds in MSA. The objective is to learn his story, assess its veracity, and make recommendations about his request for asylum.

The Kurdish Refugee and his family are in a camp being organized by Special Operations Forces. The refugee appears to be an educated man with the potential to help manage the camp. He responds to and speaks MSA. The objective of the interview is to determine whether he is trustworthy to assist in the organization of the camp.

Educational Effectiveness of the Arabic Series
The Virtual Conversations÷ Arabic Series has been rigorously evaluated in field tests at the Defense Language Institute (DLI) in Monterey, California. In all, 36 DLI Arabic language students participated in a series of three experiments. All of the subjects felt as though they were talking to an actual person and "enjoyed" the experience. None of the participants had trouble using the system independently. Reactions from students who participated included statements such as:

"The more I used the program the more I understood the mind-set behind the individual. I felt like I did actually meet with him to a point where I understood what kind of person he was."

"You feel like you are talking to a person."

"It reinforces the three basic areas of language study: speaking, reading, and listening, all at the same time."

"It is probably the best tool that I have seen in language learning."

The main scientific experiment employed DLI evaluation instruments to assess the effectiveness of the model to increase proficiency levels. Intermediate students in a DLI Arabic refresher course used the series exclusively for four days. The data from this experiment proved that a linguist can rapidly recover lost language skills through this simulated immersion experience. The subjects significantly improved their speaking, listening, and reading skills during these four days with this methodology.






Categories: Learn, Software - Windows
Supporting language: Arabic
Platforms/media types: Windows 95/98, Windows NT, CD-Rom
Specifications: 100 MHz Pentium, 16MB of RAM (32MB recommended), 18MB hard drive space 4X CD-ROM drive, SVGA (800x600, 16 bit color), Sound Blasterr compatible, sound card ,Microphone (included), Speakers, Mouse Microsoftr , Windowsr95, 98, NT4

Sample 1





Sample 2


Sample 4





What are Virtual Conversations Programs?

Virtual Conversations(R) programs combine digital video and voice recognition technology (Dragon Systemsr VoiceTools) to allow the user to engage in a dialogue with a virtual human subject using spoken language. patented this process in 1991 (U.S. Patent #5,006,987).

How do Virtual Conversations÷ programs work?

Users conduct virtual dialogues with video subjects_real people_by speaking into a microphone attached to the computer. The user asks a question and the character responds, and a face-to-face dialogue ensues. The programs have an Intelligent Scrolling Prompts feature which provides relevant questions for the user to ask. Virtually everyone reports that the dialogue experience is "like talking to a real person." The believability and educational effectiveness of these programs have been established through field tests conducted at institutions of higher learning, both locally and nationally.

Who Uses Virtual Conversations÷ programs?

Is developed Virtual Conversations÷ programs for: Professional Education/ Virtual Conversations÷ programs have been developed to allow physicians to practice HIV detection and counseling with virtual patients. patients to question a physician about breast health . linguists to practice conversing with native speakers. students to learn about a subject by interviewing an expert

The potential applications of Virtual Conversations÷ programs are unlimited.

Do the programs run on a Macintosh?

At this time, the programs are IBM PC compatible and do not run on Apples.

Is the Virtual Conversations÷ method educationally effective?

As part of its research and development, we routinely conducts scientifically controlled field tests of new Virtual Conversations÷ applications. The majority of test subjects report that they feel like they've talked to a real person. In addition, these experiments have proven that this method produces statistically significant learning gain and a positive attitude shift after a single exposure to the program.