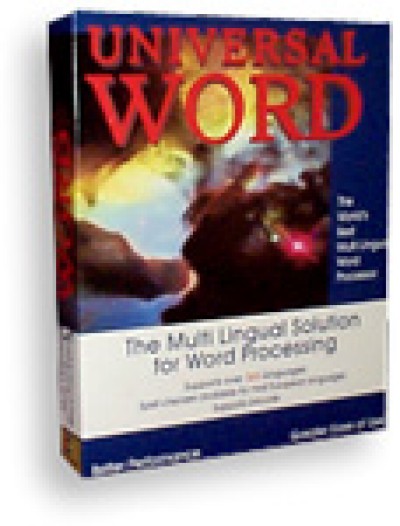 Universal Word 2000 ML3 - Indian Languages
Buy now for

$199.95


We ship worldwide. Bulk and academic discounts available -- contact us for pricing.


Ships within 3 business days.




The Universal Word is the Multi Lingual Solution for word processing. It supports over 165 languages and has spell checkers available for most of European languages. Unicode support is also included!

Univeral Word supports Bengali, English (US), Ge'ez, Gujarati, Gurmukhi, Hindi, Kannada, Malayalam, Marathi, Oriya, Punjabi, Sanskrit, Sinhalese, Tamil and Telugu.

The new Universal Word 2000 now supports tables and columns!

The multilingual Universal Word features make it easier then ever for you to do your word processing tasks in any languages in the same document, and you can proof these documents using the numerous different languages spell checkers and thesauruses. Moreover, You can do sophisticated multi-lingual search and replace. You can edit your keyboard so that it'll fit your language. Universal Word automatically configures your keyboard to fit your language needs. Whether it is left-to-right or right-to-left languages. Universal Word performs and makes your everyday task easier and friendlier. Multiple Toolbars and tabs. Multi-language spell checkers and thesauruses. Bullets, Pictures, and image processing. Footnotes, Headers, Footers, Page Numbering, Line Height, Leading, Ranges, Super/Subscript. Style, Find/replace justification and other great features all included in Universal Word. Even if all you use is English, this very reasonably priced, full-featured word processor is really all you need. Add its multilingual capability to this full-featured DTP software, and you have true value in a powerful tool.

Features:
Complete mail merge in all languages included.
Full Color text and Printer support
Full keyboard editing & customization
Full Style formatting features
Imports HTML documents
Justification, Adjustable leading, word/letter tracking (spacing), and line spacing.
Powerful image processing capability normally only found in photo editing programs.
Saves & loads documents in Unicode format
Saves multi lingual documents as image pages for use in Web page design
Search & Replace to or from any language.
Support for over 100 major file formats in DOS & Windows.
Support of image formats include GIF, PCX, BMP, TGA, DCX, TIF, EPS, WMF, WPG, PCT, & JPG.
Supports multi lingual footnotes
Supports multi lingual headers & footers
Supports multi lingual search & replace
Toggle between two languages with one icon.
Unlimited font sizing up to 1,000 points.
Variable number of lines per page.
Variable super & subscript adjustment.
Works under all localized versions of Windows 3.xx, 95, 98 & NT 4.0
Categories: Software - Windows, Word Processing
Supporting languages: Bengali, English, Ge'ez, Gujarati, Gurmukhi, Hindi, Kannada, Malayalam, Marathi, Oriya, Punjabi, Sanskrit, Sinhalese, Tamil, Telugu
Platforms/media types: Windows, Windows 95/98, Windows NT, Localized Windows, CD-Rom, Windows ME
Specifications: MS Windows operating system 3.1' 95' 98 or later. IBM PC 386 100% or higher microprocessor.Minimum installation: 8MB MS mouse or compatible pointing device.
The Universal Word Screen and Keyboard Appearance



The keyboard displayed here appears on your screen and can be re-sized and re-mapped to your personal preferences.