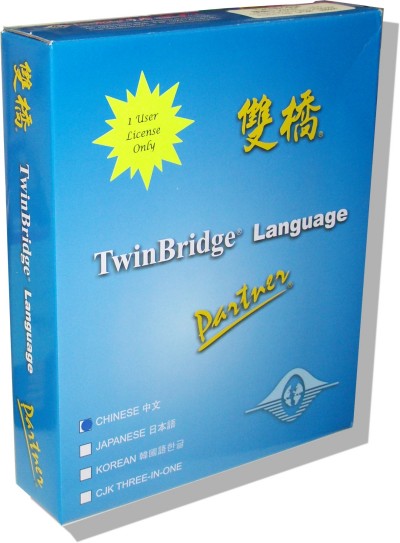 TwinBridge Chinese Partner V. 6.5 Premium Edition
Buy now for

$169.00

(regularly $179.00)


We ship worldwide. Bulk and academic discounts available -- contact us for pricing.


Ships within 2 business days.




Compatibility Fully compatible with MS Office suite and most applications under Windows 2000/XP/Vist. Enable you to display, edit and print Chinese documents, spreadsheets, PowerPoints, E-mails, etc. Support most internal codes including Unicode for Chinese characters.

IME Dictionary Manager Perform dictionary management for Chinese input methods: Indexed Phrase, English-Chinese, Yuejin and Changjei. Dictionary entries can be easily modified, added or deleted.

Fonts 56 Chinese high quality True Type fonts for both ANSI and Unicode applications.

Input Methods The TwinBridge Input Methods provide Fast Chinese characters entry with pinyin, Zhyuin, English Chinese. Characters and phrases are sorted in frequency of use for convenient selection.

English-Chinese Dictionary Provides compehensive and intuitive bi-directional speaking dictionary. Pronounces English and Simplified Chinese entries.

Custom Chinese IME Generator The Chinese system in the Language Partner supports three user-defined input methods. The customer input methods, coding rules, and features will function according to the definition.

META/Single-Byte Converter Certian graphics applications do not accept input of Chinese characters. These tools convert double-byte Chinese characters into single-byte data then insert them as graphics into applications such as AutoCAD.




Categories: Dictionary, E-mail, Fonts, System
Supporting language: Chinese
Platforms/media types: Windows XP, Windows 2000, Windows Vista
Specifications:
IBM Compatible PC with Pentium 4 or faster CPU
Microsoft Windows 2000/XP/Vista
Minimum 50 MB of Hard Disk space, with 64 MB RAM CD-ROM Drive

Highlights of Language Partner 6.5 1. Support of Unicode Chinese character set. TwinBridge Pinyin, Zhuyin, and Stroke IMEs in TBLP 6.5 support Unicode standard Chinese characters which includes both GBK and Big5+ standards. When this feature is turned on, a user can input 21,003 simplified and traditional Chinese characters from the same input line, no need to switch back and forth between GB and Big5. TBLP 6.5 is the only language tool in the market today has this feature. 2. Fang Zheng (????) GBK fonts. These are 1,000 dpi printing quality high resolution fonts developed by the most prestigious maker of Chinese fonts. Each font conforms to the Unicode GBK standard with 21,003 characters. Four most popular styles are included: Kai (?), Fang Song (??), Hei (?), Xi Yuan (??)?This included font pack alone makes TBLP6.5 a great value since the download price for just one Fang Zheng GBK font is ranged US$59 - $99. 3. Pinyin fonts. Highly effective Chinese teaching and/or learning tools. Please refer to the Pinyin Illustration. 4. IME Dictionary Manager. A restored and enhanced feature let user define frequently used Chinese phrases of up to 32 in length, and invoked with an index of up to six letters/digits. It's called Short Phrase IME. A user can also manage English-Chinese (Ying-Han) IME dictionary by adding, deleting and modifying an entry in the dictionary. The addition of dictionary entries is virtually unlimited. 5. Two-way Chinese-English speaking dictionary. Audio pronunciation for words and phrases in English and simplified Chinese. There are 72K entries in the Chinese-English dictionary; 65K entries for the English-Chinese one. This dictionary is customizable, i.e., a user can define his/her own "User Dictionary". It does support Unicode so a user can cut-and-paste a character or phrase from a web or document browser into the input line of the dictionary to get its definition, pinyin, zhuyin and audio pronunciation. 6. Automatic support of European keyboard. The 'Location' setting in Windows XP/2000 will direct TwinBridge Chinese IME to use the correct keyboard mapping. The keyboard support is transparent to TBLP 6.5 users in Western Europe.