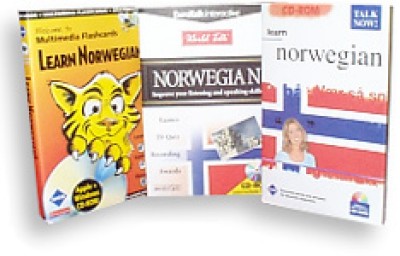 Talk Now I & II Plus Vocabulary Builder SUPER BUNDLE -Norwegian
Buy now for

$109.00

(regularly $149.00)

We ship worldwide. Bulk and academic discounts available -- contact us for pricing.
Ships in 3 - 5 business days.
Talk Now I&II Plus Flash Card SUPER BUNDLE
Buy these three programs for only $109.00 and they will take you from learning the Talk now, Intermediate and the Flash Cards exercise, to learning to speak like a native!
Contents include Vocabulary, Pronunciation, full sentences and conversations! Learn by example... Record your own voice & match it to the computer's... Dozens of educational word games. Talk Now! Is designed for people who want to learn a language quickly. It's fun, fast, and makes learning easy. If you don't have time to become fluent, but need the basics in a hurry, Talk Now! Is for you.
Ideal for beginners, Comprehensive, and Interactive.
Topics include: first words, phrases, food, shopping, numbers and time.
immediate response to every choice you make.
compare your pronunciation to that of native speakers, using the record facility.
Test your knowledge with easy and hard quizzes, plus a challenging memory game.
Monitor your progress, keep a check on your total score, and print your own awards.
print your own picture dictionary for handy reference.

Intermediate Features include:
The calendar, sentence building, asking directions, the weather and numbers.
the interactive TV Quiz is a definite hit, where our resident champion may turn out to be more intelligent than he looks! You can also compete in a one-to-one match with a friend!
Recording studio gives confidence in speaking the language, you can also take the part of an actor and record yourself!
Dictation Six stories to give practice in dictation and comprehension-at a speed of your choice!
Printable worksheets that you can take anywhere.

Flash Card Features include:

An interactive flash card system for everyone including kids to help learn basic language and for people to play games and record their own words and sentences. It helps memorize the language, Help is provided in over 40 languages. "The most entertaining CD-ROM language package to come from the WLR."