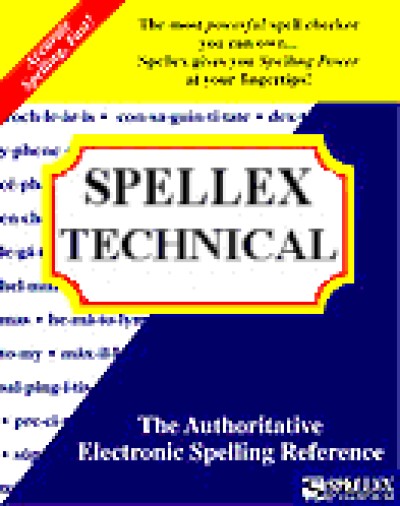 Spellex Technical 4.0
Buy now for

$170.95

(regularly $199.95)


We ship worldwide. Bulk and academic discounts available -- contact us for pricing.


Ships in approximately 14 business days.




Turn your basic spell checker into a scientific and engineering word expert with Spellex Technical 4.0, the most comprehensive, up-to-date, and accurate scientific and engineering spelling checker ever developed. Listed below is product information for Spellex's comprehensive technical spell checking software:
Correctly spells more than 50,000 scientific and engineering terms in fields ranging from aerospace to zoology right inside your spell checker.
Quickly and easily spell check technical terms like parastratigraphics, Bernoulli, schreinerize, decyltriclorosilane ... or thousand of other terms from scientific, engineering, computer, and life science fields.
Includes terms from astronomy, anatomy, acoustics, architecture, biology, chemistry, chemical engineering, communications, computer science, ecology, electronics, engineering, geology, hydrology, industrial engineering, mapping, mathematics, mechanical engineering, mineralogy, physics, physiology, science and technology, statistics, thermodynamics, virology, zoology, and many more.
Includes hundreds of abbreviations and acronyms common within technical disciplines as well as professional degrees and organizations.
Works inside your spell checker, exactly like your spell checker so there is nothing new to learn. No manuals to read, no commands to learn, and no more embarrassing technical spelling errors.
Allows you to look up technical terms you are unsure of while inside your spell checker without exiting your program.
Compatibility:
Microsoft Word 2000
Microsoft Word '97
Microsoft Word 7.0
Microsoft Word 6.0 for Windows
Microsoft Word 6.0 for Macintosh
Microsoft Works 3.0 for Windows
Microsoft Works 4.0, 4.x & '99
Microsoft Works 2000
Microsoft Works Suite 2000
Microsoft Works 4.0 for Macintosh
Microsoft Office 2000 (U.S. English Only)
Microsoft Office `97Microsoft Office '95
Microsoft Office '98 for Macintosh
Microsoft Office 2001 for Macintosh
Microsoft FrontPage 2000 (U.S. English Only)
PowerPoint 2000 (U.S. English Only)
Excel 2000 (U.S. English Only)
Excel '97
Access 2000 (U.S. English Only)
Access '97
Outlook 2000
Outlook '97
Microsoft FrontPage `97
PowerPoint '97
Excel '97
Access '97
Outlook '97
Outlook Express
Microsoft Exchange