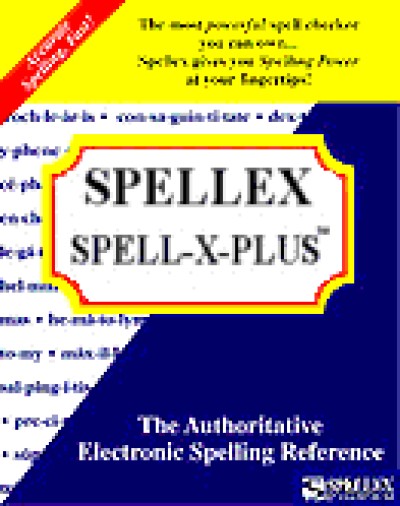 Spell-X-Plus
Buy now for

$170.95

(regularly $199.95)

We ship worldwide. Bulk and academic discounts available -- contact us for pricing.
Ships in approximately 14 business days.
Spell-X-Plus - The latest words in medicine!
The problem:

No profession has a more dynamic and rapidly expanding language than the healthcare profession. New medical terms are introduced daily... new operative procedures, new instruments, new medications, new equipment, new techniques, new research terms, new diagnostics, new laboratory tests, acronyms, eponyms...the list goes on and on! Many of these essential terms won't be found in your favorite medical dictionaries, medical wordbooks, or conventional medical spell checkers for years...if at all!
The solution:

Spell-X-Plus is the solution for staying up to date with the dynamic and rapidly expanding healthcare language. Spell-X-Plus is an annual subscription service which provides quarterly software updates for new medical and pharmaceutical words. Your software updates can be downloaded directly from this website or mailed to you on disk.

This service allows anyone who types medical or pharmaceutical terms to stay up to date with the latest words in medicine. Just install the new update each quarter and Spell-X-Plus will keep you on the leading edge of the medical language!

Imagine... instead of waiting a year for an updated medical speller, you can turn your compatible software into a virtual medical spell checking machine with the very newest medical and pharmaceutical words! No other medical spell checker brings you this exciting option!
What does Spell-X-Plus include?
Spellex Development continuously reviews current medical literature and information sources including FDA bulletins and reports, clinical research reports, on-line medical and pharmaceutical computer databases, medical language publications, medical device and pharmaceutical manufacturers' literature and bulletins, PhRMA reports, and dozens of selected healthcare publications, to keep you on the leading edge of medical terminology.
Spell-X-Plus includes:
All new medications approved by the FDA
All new medical devices approved by the FDA
Newly introduced investigational and experimental drugs
New OTC drugs and prescription pharmaceuticals
New chemotherapy drugs
New medical terminology
New surgical procedures
New diagnostic procedures
New orphan drugs
New diseases and treatments
New laboratory tests
New abbreviations
New acronyms
All Spellex software changes and enhancements
Compatibility:
Microsoft Word 2000
Microsoft Word '97
Microsoft Word 7.0
Microsoft Word 6.0 for Windows
Microsoft Word 6.0 for Macintosh
Microsoft Works 3.0 for Windows
Microsoft Works 4.0, 4.x & '99
Microsoft Works 2000
Microsoft Works Suite 2000
Microsoft Works 4.0 for Macintosh
Microsoft Office 2000 (U.S. English Only)
Microsoft Office `97Microsoft Office '95
Microsoft Office '98 for Macintosh
Microsoft Office 2001 for Macintosh
Microsoft FrontPage 2000 (U.S. English Only)
PowerPoint 2000 (U.S. English Only)
Excel 2000 (U.S. English Only)
Excel '97
Access 2000 (U.S. English Only)
Access '97
Outlook 2000
Outlook '97
Microsoft FrontPage `97
PowerPoint '97
Excel '97
Access '97
Outlook '97
Outlook Express
Microsoft Exchange