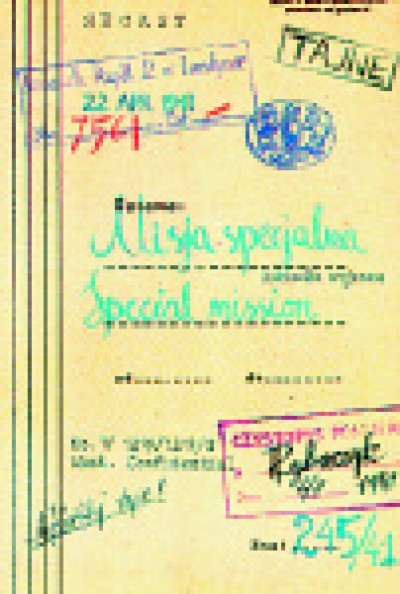 Special Mission (Misja Specjalna)
Buy now for

$34.95

We ship worldwide. Bulk and academic discounts available -- contact us for pricing.
Ships within 3 business days.
Contemporary Polish comedy set in Nazi-occupied Poland. Krzysztof Kowalewski and Dorota Kaminska star in this story about a special mission to intercept a mysterious chest with Himmler's gift to Hitler. Polish with English subtitles.
Porucznik Romanski, pseudonim "Meteor 6", agent angielskiego wywiadu, czeka na przerzut do okupowanej Polski, w okolice Przemysla, gdzie na lotnisku hitlerowcy ukryli skrzynie z tajemniczym podarunkiem dla Hitlera. Romanski ma dostarczyc przesylke do sztabu brytyjskiego lotnictwa. Tymczasem zaprzyjaznia sie w kasynie z kucharzem, Polakiem Janem. Zabiera podchmielonego mezczyzne do swojej kwatery i prosi, zeby udawal przed wartownikami podczas obchodu, ze "Meteor 6" jest w pokoju. Sam zabawia sie w sypialni pieknej Janett. "Meteor" musi natychmiast leciec do Polski. Zolnierze wsadzaja pijanego Jana do samolotu, a on nie osmiela sie wyjasnic pomylki. Dzieki lacznikom z konspiracji dociera do restauracji "Teatralna", gdzie pracuja aktorzy patrioci, bojkotujacy niemieckie teatry. Przechwytuja oni teczke z papierami Niemca Szulca. Jan z grupa konspiratorow z "Teatralnej", podszywajac sie pod trupe kolaborantow, wyjezdza na lotnisko. Jednoczesnie zjawia sie tam Romanski. Zdobywaja skrzynie i otwieraja ja. W srodku jest... UFO. Rozegrana w zawrotnym tempie komedia wojenna parodiujaca zarowno filmy rodzimej produkcji, jak i przygody Indiany Jonesa.