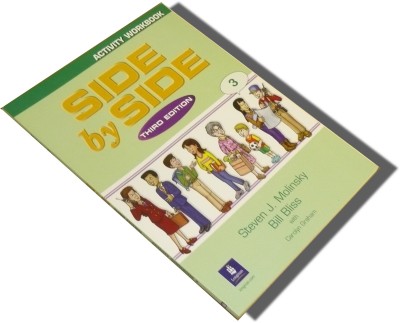 Side by Side 3rd ED Activity Workbook 3 (High Intermediate) (Paperback)
Buy now for

$14.95

(regularly $24.95)

We ship worldwide. Bulk and academic discounts available -- contact us for pricing.
In Stock. Ships within 2 business days.
Side by Side Secondary School Edition & Classmates
An innovative new program for middle & high schools from Steven J. Molinsky & Bill Bliss. Levels are available 1, 2, 3, 4
Side by Side offers an active approach to the English language! Students learn English conversationally by talking with each other "side by side". The course is intended for classroom teaching, but is also great for small groups or individual tutoring. Side by Side is our number one recommended course and is the world's most popular ESL learning series. It has been updated several times and now includes a separate video component. Side by Side uses a student-centered methodology that features exercises and activities that require students to speak to and interact with each other. This course is perhaps best-suited for young adults but suitable for all-ages/ Something we really like about Side by Side is that it offers extensive opportunities for originality and creativity. This course is loved by both teachers and students because it makes class more fun and productive. Side by Side Secondary School Edition & Classmates empower your students to excel academically in an English-speaking environment and to develop their abilities to their full potential. This program:
prepares students for success in mainstream subject classes.
provides a relevant connection between students' lives and classroom material.
builds students' self-esteem by valuing their cultural identity.
raises students' expectations of what they can achieve.
features authentic literature and writing process activities integrated across the curriculum.
links school and home to involve the entire family.

Side by Side Secondary School Editions
All 4 levels offer dynamic activities in listening, speaking, reading, and writing. Innovative lessons include school communication, the language of school subjects, and computer technology.
Each unit includes a "transition lesson" that links the grammar and functions to the content-based ESL lessons in the Classmates books.

Classmates
Classmates 1-4 complement Side by Side 1-4 and provide appropriate content-based instruction as they teach students social language for interpersonal communication and academic language for mainstream subject classes.
Each chapter is a thematic unit integrating school communication and subject matter content. Cooperative learning, various projects, literature selections, the writing process, and the arts are combined to foster an interactive and creative learning environment for students who have diverse learning styles, interests, and talents.
These worktexts can also serve as a stand-alone course or as a companion to other texts.

Program Components:

Side by Side Secondary School Edition:

Student Books 1, 2, 3, 4
Teacher's Guides
Activity Workbooks
Audio Programs
Testing Programs
Picture Cards

Classmates:

Worktexts 1, 2, 3, 4
Audio Programs
Teacher's Guides

Also See Side by Side TV Side by Side TV Video Workbooks 1 & 2An Ideal Video Companion to Side by Side & Classmates!






Product ID: 31595 ISBN-13: 9780130268754 ISBN-10: 0130268755

A four-level, grammar-based conversational language program that integrates listening speaking, reading, and writing. This Secondary School Edition of Side by Side includes such practical topics as Daily and School Activities, Languages and Nationalities, and Common Health Problems. A School Connections page in each chapter links the grammar and functions to the Classmates companion books.

A comprehensive, four-level content-based series that helps students develop social and academic language skills for success in school and at home. Classmates 1-4, which complement Side by Side 1-4, can also serve as a stand-alone program or as a companion to other texts.

LEVEL:

Side by Side Secondary School - Edition 1: High-Beginning
Side by Side Secondary School - Edition 2: Low-Intermediate
Side by Side Secondary School - Edition 3: High-Intermediate
Side by Side Secondary School - Edition 4: Low-Advanced

AGE:
Middle School through Adult

Components for each level:

Student Book
Teacher's Guide
Activity Workbook
Audio Program
For the program:
Testing Program
Picture Cards LEVEL:

Classmates 1: High Beginning
Classmates 2: Low-Intermediate
Classmates 3: High-Intermediate
Classmates 4: Low-Advanced AGE:
Middle School through-Adult

Components for each level:

Worktext
Teacher's Guide
Audio Program For the program:

Family Involvement Program
Management System