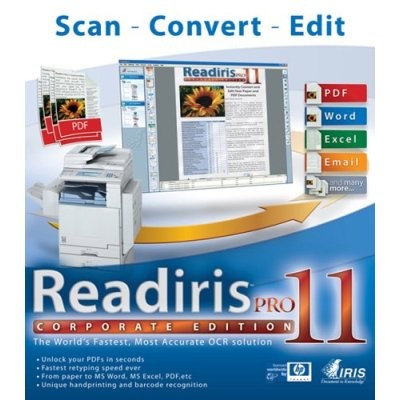 Readiris Pro 11 Corporate Edition
Buy now for

$399.99


We ship worldwide. Bulk and academic discounts available -- contact us for pricing.


Ships in 3 - 5 business days.




Readiris Pro 11 Corporate Edition is a Professional OCR desktop solution. Its purpose is to scan paper documents , PDF, or image files at high speed, and to convert them into fully indexed PDF files or any other format that you may need.

High speed and accurate recognition Readiris Pro 11 Corporate Edition is designed to scan in and convert large volumes of paper and electronic documents with an unbeatable combination of speed and accuracy.

Automated Document Processing Readiris Pro 11 Corporate Edition is equipped with professional options allowing automated document processing.

Large output capabilities Readiris Pro 11 Corporate Edition creates documents optimized for all your editing, archiving, and sharing needs.

Convert and Index your Paper Documents Quickly and accurately convert your paper and PDF documents into editable text (Word, HTML, etc .)

Create Optimized Fully Searchable PDF Readiris Pro 11 Corporate Edition creates optimized PDF files that meet all your sharing and archiving needs. Send all your optimized files to your Electronic Document Management solution.

Business cards recognition Efficiently turn your business cards into electronic contacts




Category: OCR
Supporting languages: Afrikaans, Albanian, Arabic, Aymara, Balinese, Basque, Bemba, Bikol, Bislama, Bosnian, Brazilian Portuguese, Breton, Bulgarian, Byelorussian, Catalan, Cebuano, Chamorro, Chinese, Corsican, Creole, Croatian, Czech, Danish, Dutch, English, Esperanto, Estonian, Faroese, Fijian, Finnish, French, Frisian, Friulian, Galician, Ganda, German, Greek (Modern), Greenlandic, Haitian, Han, Hiligaynon, Hungarian, Icelandic, Ilocano, Indonesian, Interlingua, Irish Gaelic, Italian, Javanese, Kapampangan, Kinyarwanda, Kurdish, Latin, Latvian, Lithuanian, Luxembourgian, Macedonian, Madurese, Malagasy, Malay, Maltese, Manx, Maori, Mayan, Minangkabau, Moldavian, Nahuatl, Norwegian, Nyanja, Nynorsk, Occitan, Pidgin English (Tok Pisin), Polish, Portuguese, Quechua, Rhaeto-Romance, Romanian, Rundi, Russian, Samoan, Sardinian, Scottish Gaelic, Serbian, Shona, Slovak, Slovenian, Somali, Sotho, Spanish, Sudanese, Swahili, Swedish, Tagalog, Tahitian, Tetun, Tonga, Tswana, Turkish, Ukrainian, Wolof, Xhosa, Zapotec, Zulu
Platforms/media types: Windows XP, Windows 2000, Windows ME, Windows 98, Windows Vista
Specifications: System requirements

An Intel® Pentium® based PC or equivalent is recommended.
128 MB RAM is recommended to process grayscale and color images
120 MB free disk space.
The Windows® Vista, Windows® XP, Windows® ME, 2000, 98SE, operating system.