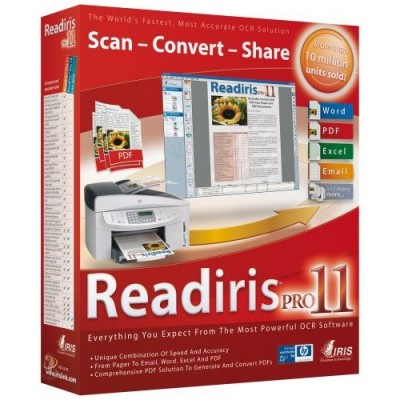 Readiris 14 Corporate Middle-East/Asian Combined Edition
Buy now for

$999.95


We ship worldwide. Bulk and academic discounts available -- contact us for pricing.


Ships in 3 - 5 business days.




Readiris Pro 11 Middle-East/Asian Corporate Edition is the best Arabic, Farsi, English and Hebrew OCR in the world! With this professional OCR Software, you will never re-type your texts again! This unique feature works with:
Arabic
Farsi
English
Hebrew
Chinese (traditional & simplified)
Japanese
Korean
Russian
Greek
Hebrew and 120 other foreign languages

Readiris Pro 11 Corporate Edition is a professional OCR desktop solution to scan paper documents at high speed and to convert PDF and image files into fully indexed PDF files. In addition to the Pro Edition features, this Corporate version offers:

High speed and accurate recognition
Automated Document Processing
Large output capabilities
No limit multipages recognition and many more...

Features

Corporate Edition specific features:

Advanced PDF Generation Exceptional tools allow you to create PDFs with optimized file size: - Digital signature of your PDF - Generate the PDF type that best suits your needs: image over text, text over image, text or image only - Optimize the PDF size: reduce the image resolution or the JPEG file quality. Or save your PDF using JPEG 2000 compression format to get the smallest file size. Perfect for archiving and sharing! - Directly create a PDF without recognizing the scanned document with the "Save full page as image" function
Easy Separation of Batches into Several Documents When scanning batches, insert a blank page between your different documents. Readiris separates them, recognizes and saves them into a different output file. Or simply right-click a page to transform it in a cover page and to manually separate your scanned documents.
Powerful Indexing Based on Bar Code Reading Separate your documents by blank pages followed by a page containing bar codes. More than 20 types of bar codes are automatically recognized (even the PDF 417 barcode) and the embedded information is saved in an XML index.
Efficient Batch OCR Batch OCR executes the recognition on all pre-scanned images in a specific folder. The recognized documents get the same file name as the image files.
Productive Watched folder Readiris Pro 10 Corporate Edition can set up a "watched folder". Readiris systematically executes the recognition on any image file dropped in this folder. You can leave the OCR software running day after day... Acquire new documents and they will be recognized promptly.
A Unique Tool to Update Your Address Book Scan, recognize and export your business cards directly to your favorite contact manager (Outlook, Outlook Express, Lotus Notes, Palm Desktop) or save your electronics contacts in a vCard file, in HTML or in a structured file and import them into any contact database.




Category: OCR
Supporting languages: Afrikaans, Albanian, Arabic, Aymara, Balinese, Basque, Bemba, Bikol, Bislama, Brazilian Portuguese, Breton, Bulgarian, Catalan, Cebuano, Chamorro, Chinese, Corsican, Creole, Croatian, Czech, Danish, Dutch, English, Esperanto, Estonian, Faroese, Farsi (Persian), Fijian, Finnish, French, Frisian, Friulian, Galician, Ganda, German, Greek (Modern), Greenlandic, Haitian, Hebrew, Hiligaynon, Hungarian, Icelandic, Ilocano, Indonesian, Interlingua, Irish Gaelic, Italian, Japanese, Javanese, Kapampangan, Kikongo - See Kongo, Kinyarwanda, Korean, Kurdish, Latin, Latvian, Lithuanian, Luxembourgian, Macedonian, Madurese, Malagasy, Malay, Maltese, Manx, Maori, Mayan, Minangkabau, Nahuatl, Norwegian, Nyanja, Nynorsk, Occitan, Persian (Farsi), Pidgin English (Tok Pisin), Polish, Portuguese, Quechua, Rhaeto-Romance, Romanian, Rundi, Russian, Samoan, Sardinian, Scottish Gaelic, Serbian, Shona, Slovak, Slovenian, Somali, Sotho, Spanish, Sudanese, Swahili, Swedish, Tagalog, Tahitian, Tonga, Tswana, Turkish, Ukrainian, Wolof, Xhosa, Zapotec, Zulu
Platforms/media types: Windows XP, Windows 2000, Windows ME, Windows 98, Windows Vista
Specifications: System requirements

An Intel® Pentium® based PC or equivalent is recommended.
128 MB RAM is recommended to process grayscale and color images
120 MB free disk space.
The Windows® Vista, Windows® XP, Windows® ME, 2000, 98, NT4 with IE4 operating system.