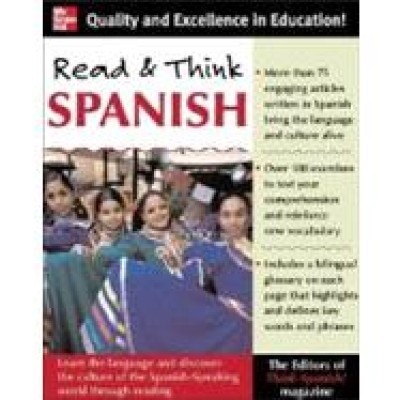 Read and Think Spanish: Learn the Language and Discover the Culture of the Spanish-Speaking World
Buy now for

$15.95
We ship worldwide. Bulk and academic discounts available -- contact us for pricing.
Ships in 3 - 5 business days.
A fun, fascinating way to expand your knowledge of the Spanish language and Hispanic cultures
Read & Think Spanish offers an innovative, non-intimidating approach to learning Spanish language basics. Compiled by the expert editors of Think Spanish! magazine, this book brings together 75 engaging, fully illustrated readings and articles about the life and cultures of Spanish-speaking countries organized around topics such as famous people, festivals, traditions, food, history, geography, art, sports, and music. Key grammar points and fundamentals are highlighted, comprehension questions help reinforce new Spanish vocabulary, and an extensive bilingual glossary on each page allows you to read and learn without having to stop to look up words in a dictionary.
Discover the fun and easy way to learn Spanish!
Read & Think Spanish is your ticket to building a rich Spanish vocabulary. Inside are more than 100 articles written in Spanish about the enchanting diversity of Latino culture--from Spain's rowdy La Tomatina festival and Argentina's passionate tango tradition to Celia Cruz, Cuba's beloved salsa singer.
Each article presents new vocabulary in boldface within the article; in the margins, you will find their translations. You don't have to flip to the back of the book or a dictionary--you know right away any words unfamiliar to you. As you are reading and enjoying these articles, you are learning new Spanish vocabulary without even knowing it!
Inside you will find:
117 articles that cover topics such as places, famous people, music, food, and more
Easy-to-read sidebars with new vocabulary and the English translations
End-of-chapter questions with an answer key in the back, so you can review and reinforce what you have learned

Take the ho-hum out of learning Spanish and discover an innovative language program that will keep you entertained along your way to Spanish proficiency!




Product ID: 106627 ISBN-13: 9780071460330 ISBN-10: 0071460330