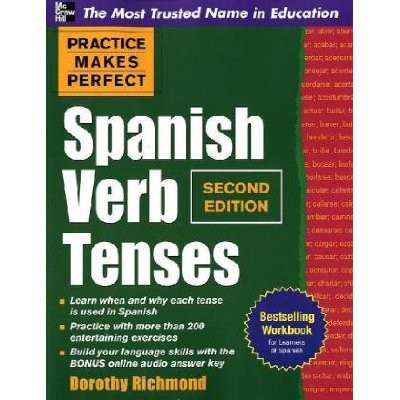 Practice Makes Perfect - Spanish Verb Tenses
Buy now for

$11.95

We ship worldwide. Bulk and academic discounts available -- contact us for pricing.


Ships in 3 - 5 business days.




Go beyond conjugation and learn the right verb tenses for speaking and writing in Spanish If you are looking for help memorizing Spanish verb conjugations, then any Spanish verb book will do. But if you are interested in becoming fluent, you'll need to learn how these language building blocks are used in everyday speech and writing. That's where Practice Makes Perfect: Spanish Verb Tenses comes in. The ideal reference/workbook for beginning to intermediate Spanish-language learners, Practice Makes Perfect: Spanish Verb Tenses shows you when and why to use certain verb tenses and gives you plenty of examples, increasing your confidence in choosing the right word. Practice Makes Perfect: Spanish Verb Tenses lets you: * Learn when and why to use different verb tenses * Reinforce your knowledge with everyday examples covering a wide range of topics * Build your verb skills using more than 250 engaging exercises With numerous skill-building exercises, comprehensive verb conjugation tables, and the proven Practice Makes Perfect format, you will learn to speak and write in Spanish fluently in no time at all. Topics include: Present Tense; Conjugation of Regular Verbs; Ser and Estar; Hay; Tener; The Personal a; A Dozen Highly Useful Irregular Verbs; Saber and Conocer; Stem-Changing Infinitives; Noteworthy Infinitives; Reflexive Verbs; Gustar et al.; The Present Progressive; The Past, Future, and Conditional Tenses; The Preterite Tense; The Imperfect Tense; The Future Tense; The Conditional Tense; The Present Perfect Tense; The Past Perfect Tense; The Imperative, Subjunctive, and Compound Tenses, and the Passive Voice; The Imperative; The Present Subjunctive; The Imperfect Subjunctive; The Future Perfect; The Conditional Perfect; The Present Perfect Subjunctive; The Pluperfect Subjunctive; The Passive Voice




Product ID: 106654 ISBN-13: 9780071639309

Categories: Grammar, Learn
Supporting language: Spanish
Platforms/media types: Printed Matter
Specifications: # Paperback: 352 pages # Publisher: McGraw-Hill; 2 edition (March 11, 2010) # Language: English # ISBN-10: 9780071639309 # ISBN-13: 978-0071639309 # ASIN: 0071639306 # Product Dimensions: 10.7 x 8.4 x 0.4 inches # Shipping Weight: 1.8 pounds

Dorothy Richmond is an experienced teacher of Spanish and successful author of Spanish language-learning grammars.