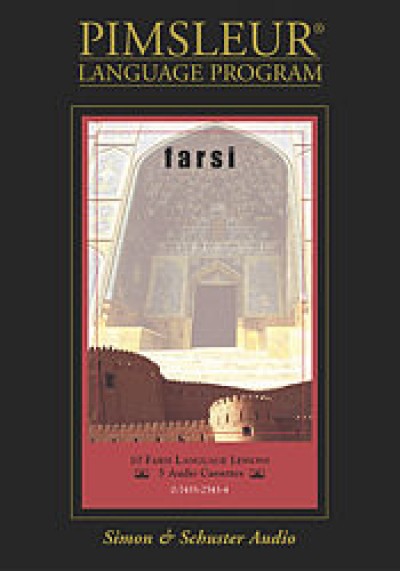 Pimsleur Course-Farsi (Persian) Compact Audio CD
Buy now for

$115.00


We ship worldwide. Bulk and academic discounts available -- contact us for pricing.


Ships in 3 - 5 business days.




With Pimsleur language courses, you will quickly learn to speak Farsi and understand it as well. You're not just learning "phrases" with the Pimsleur method, you're acquiring essential, conversational language skills! You'll be thrilled to discover you can hold real conversations in your new language when you have finished the course. Dr. Pimsleur devoted his life to language teaching and was one of the world's leading experts in applied linguistics. After years of research and development, including field studies of spoken language training with adults, Dr. Pimsleur created a new method for self–instruction in spoken languages that is based on the way the human brain takes in language as speech. Of the several unique features of the Method, two key principles: the Principle of Anticipation and a scientific principle of memory that he called Graduated Interval Recall This is the only language teaching program which incorporates these essential principles to provide you with the most easy–to–do, amazingly rapid, and highly cost–effective learning method available.




Product ID: 104940 ISBN-10: 0743525442

Persian Language, also known as Farsi, is the most widely spoken member of the Iranian branch of the Indo-Iranian languages, a subfamily of the Indo-European languages. Farsi is the language of Iran (formerly Persia) and is also widely spoken in Afghanistan and, in an archaic form, in Tajikistan and the Pamir Mountain region. Farsi is spoken today primarily in Iran and Afghanistan, but was historically a more widely understood language in an area ranging from the Middle East to India. Significant populations of speakers in other Persian Gulf countries (Bahrain, Iraq, Oman, People's Democratic Republic of Yemen, and the United Arab Emirates), as well as large communities in the USA. Total numbers of speakers is high: over 30 million Farsi speakers (about 50% of Iran's population); over 7 million Dari Persian speakers in Afghanistan (25% of the population); and about 2 million Dari Persian speakers in Pakistan.