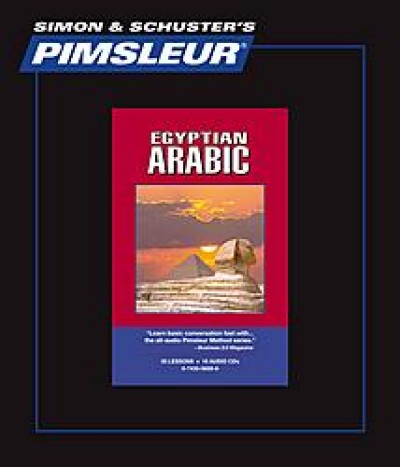 Pimsleur Comprehensive Arabic (Egyptian) 30 Lesson Audio CD
Buy now for

$345.00

We ship worldwide. Bulk and academic discounts available -- contact us for pricing.


Ships in 3 - 5 business days.




Comprehensive Arabic (Egyptian) includes 30 lessons of essential grammar and vocabulary -- 16 hours of real-life spoken practice sessions -- plus an introduction to reading.

Upon completion of this Level I program, you will have functional spoken proficiency with the most-frequently-used vocabulary and grammatical structures. You will be able to:

initiate and maintain face-to-face conversations,
deal with every day situations -- ask for information, directions, and give basic information about yourself and family,
communicate basic information on informal topics and participate in casual conversations,
avoid basic cultural errors and handle minimum courtesy and travel requirements,
satisfy personal needs and limited social demands,
establish rapport with strangers in foreign countries,
begin reading and sounding out items with native-like pronunciation.




Of the world's major languages, Arabic is one of the most notorious for regional dialectical differences. In recent times, an official dialect known as Modern Standard Arabic has been developed for use throughout the Arabic-speaking world. On a less-than-official level, however, the colloquial dialects are still problematic, and travelers often strive to learn as closely as possible the dialect of the region to which they will be traveling. Egyptian Arabic is especially useful, both for those whose destination is Egypt and also as an all-purpose dialect, since a great many films, radio, and television programs are produced in Egypt, and consequently the dialect is widely understood throughout the Arabic-speaking world. Although there are regional dialects within Egypt itself, the dialect of Cairo is considered Standard Egyptian Colloquial Arabic, and it is this dialect you will be learning on the Pimsleur Egyptian Arabic.