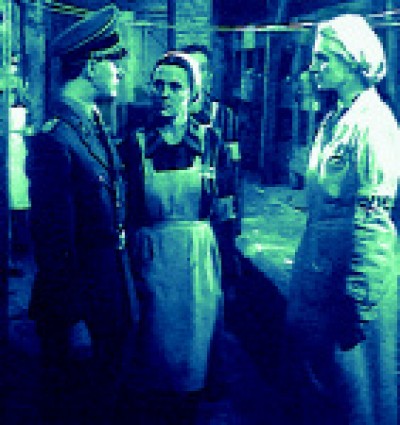 Ostatni Etap (The Last Stage)
Buy now for

$34.95

We ship worldwide. Bulk and academic discounts available -- contact us for pricing.


Ships within 3 business days.




The horrible lives of female inmates of Auschwitz are chronicled in this chillingly accurate recreation of actual events. Filmed on location at the notorious German concentration camp, it tells the story of one woman's attempts to survive until she is eventually rescued. Based on the experiences of film director, Wanda Jakubiowska, as a prisoner of a German concentration camp. With Alina Janowska, Zofia Mrzozowska, Aleksandra Slaska, and Edward Dziewonski I Inni. In Polish with English subtitles.

Epicka opowiesc o zyciu i walce bohaterskich kobiet roznych narodowosci, wiezniarek Oswiecimia-Birkenau. Film ma luzna konstrukcje, akcja rozwija sie kilkoma rownoleglymi watkami. Marta jest polska Zydowka, tlumaczka, dzialala w obozowym ruchu oporu; ginie podczas proby ucieczki. Rosyjska wiezniarka - lekarz Eugenia, probujaca rzeczywiscie ratowac chorych, zostaje poddana torturom i stracona. Niemiecka komunistka Anna trafia do obozowego bunkra. Tragiczne losy wiezniarek, zdziczenie i sadyzm niemieckiej zalogi obozu - ten syntetyczny obraz rzeczywistosci oswiecimskiej przekazala byla wiezniarka Oswiecimia - Wanda Jakubowska. Pierwszy polski film, ktory wszedl na ekrany w ponad piecdziesieciu krajach i ktory prasa swiatowa uznala za dzielo wielkiego formatu. Jeden z najbardziej wstrzasajacych dokumentow drugiej wojny swiatowej.

Rezyseria/Director: Wanda Jakubowska ; Scenarius/Screenplay: Wanda Jakubowska , Gerda Schneider ; Zdjecia/Photography: Borys Monastyrski ; Muzyka/Music: Roman Palester ; Scenografia/Scenography: Roman Mann , Czeslaw Piaskowski ;

Obsada/Cast: Barbara Drapinska (Marta), Zofia Mrozowska (Cyganka), Alina Janowska (Dessa), Aleksandra Slaska (Oberaufseherin), Wanda Bartowna (Helena), Barbara Fijewska (Anielka), Halina Drohocka (Lalunia), Antonina Gorecka (Anna), Tatiana Gorecka (Eugenia), Huguette Faget (Michele), Maria Winogradowa , Maria Kaniewska , Edward Dziewonski , Kazimierz Pawlowski , Wladyslaw Brochwicz , Stefan Srodka , Stanislaw Zaczyk .

Produkcja/Produced by: Mieczyslaw Wajnberger , P.P. Film Polski , Rok produkcji/Produced in 1948 ; Czarno-bialy/Black&White.

Premiera/Premiere: 28 III 1948 , Lodz.

Grand Prix na MFF w Marianskich Lazniach 1948; I Nagroda na MFFP w Gottwaldowie, 1948; Nagroda Swiatowej Rady Pokoju dla Wandy Jakubowskiej, 1951.