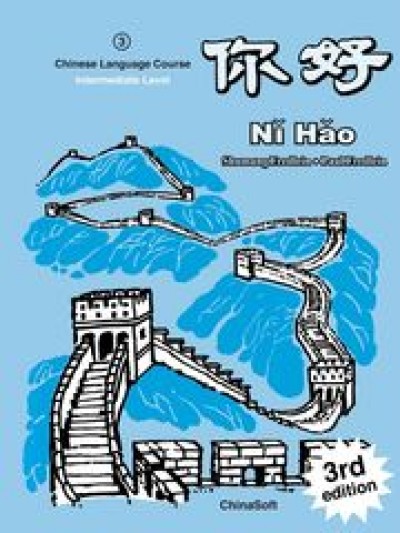 Ni Hao, Volume 3 Textbook with Software Download, 3rd Edition (Simplified)
Buy now for

$59.95

(regularly $79.95)

We ship worldwide. Bulk and academic discounts available -- contact us for pricing.


Ships in 3 - 5 business days.




Ni Hao, Volume 3 Textbook with Software Download, 3rd Edition (Simplified)
By Shumang Fredlein, Paul Fredlein Ni Hao, Volume 3 is the third level of the series and is designed for students who have completed Ni Hao, Volumes 1 and 2. This level is ideally suited for students in middle or high school. As in other levels, Chinese characters are used extensively throughout the text and are accompanied by pinyin which acts as a guide to pronunciation. Pinyin is gradually omitted as the student becomes familiar with the characters and vocabulary. Chinese culture related to the content of each lesson is introduced in the "Something to know" section, designed to enrich cultural understanding and generate interest in learning the language. Ni Hao, Volume 3 introduces more than 500 words and phrases and 151 written characters. Appendices with Chinese-English and English-Chinese "Words and Expressions" contain pinyin, English, and traditional and simplified character listings for words learned in the text. Volume 3 also contains an appendix listing Chinese Radicals. This textbook is in simplified characters.




Product ID: 503651 ISBN-13: 9781876739546

Categories: Classroom/Schools, Learn
Supporting language: Chinese
Platforms/media types: Printed Matter
Specifications: ISBN-13: 9781876739546 Publisher: ChinaSoft Published: 2009 Trim Size: 8.5 x 11 Format: Paperback w/ Software Download Illustrations: Color Illustrations Pages: 138pp

What's new in the 3rd Edition? * A new section about Pinyin betters students' knowledge on pinyin rules and the origin of Chinese characters. * Offers a smoother transition from the introductory level to this elementary level, with stronger focus on the important sentence structure, but using a shorter vocabulary list. * The language introduced is more frequently and functionally repeated. * Settings and illustrations are closely related to students' daily life and are spiced with humor to lift students' learning spirit. Comics were also added to reinforce learning. * In the Workbook, exercises are now catered for individual sections in each lesson. New items introduced in each section are grouped for easy learning and handy referral. * In addition to exercises, each lesson includes both the listening and reading tasks for summative learning and testing. The settings of these tasks often poke fun at teenagers to incur laughter.