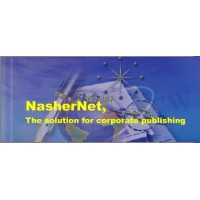 NasherNet Arabic Web Publishing Software
Buy now for

$249.00

We ship worldwide. Bulk and academic discounts available -- contact us for pricing.


Ships in approximately 8 business days.




Q. What are the features that make NasherNet more distinguished than other similar products? A. NasherNet is distinguished by its support for NLP (Natural Language Processing), which characterizes Sakhr for many years. NasherNet enables you to handle Arabic contents with their very special properties. NasherNet can search for and restore contents accurately and efficiently, using the derivatives or synonyms search techniques, regardless of the common Arabic mistakes. It can search for a specific topic and all of its derivatives either in Arabic or English contents. In other words, NasherNet is the sole system that you can depend on for Arabic content management. further more NasherNet allows you to easily gather, handle and manage the contents for later publishing on the Web. This is done through a variety of operations starting from editing and ending with publishing, undergoing the processes of assigning media files, checking in and out, archiving and others. The work cycle is divided into several workflows. A workflow aids in the tracking and management of all the activities in a project from start to finish. Each workflow is operated by specified users privileged with certain permissions and every workflow consists of many stages to guarantee the ultimate accuracy. Q. What are the operating systems NasherNet can work under? A. NasherNet is a web based system that that its client is IE and its server runs on MS-Windows 2000 or later. Q. Can NasherNet handle UNIX databases? A. NasherNet supports ODBC (Open Database Connectivity) that was already applied in many huge organizations. Q. What are the supported security levels in NasherNet ? A. NasherNet supports eight security levels that can be applied to any content in the system. The security levels are: Browse, Read, Write, Modify, Delete, Archive, Publish and Restore. Q. Can NasherNet help monitoring the quality and quantity of the users' daily work? A. NasherNet generates accurate reports on every user, the login time, logout time, number of continents worked on, Workflows' actions, News Sources rate. in addition to other information that describes the user's work and weak points. Q. Does NasherNet support publishing a part of the contents on CDs to be distributed? A. NasherNet can do that properly in addition to excellent search capabilities and NLP support. Q. Can NasherNet integrate with other applications? A. NasherNet components can be programmed using COM or ActiveX technologies to be integrated into any application. Also, the supported APIs can integrate with databases of other applications. Q. Can NasherNet be useful for the multi-branch organizations? A. NasherNet is characterized by its support for the multi-branch organizations, with the ability of performing all activities through the web. Q. What are the available user interface languages? A. You can switch between three user interface languages at any time, namely Arabic, English and French. Q. Is there any user guide for NasherNet ? In what languages? A. For best operating of NasherNet , there is a user guide available in three languages; Arabic, English and French. Q. Most of the document management systems do not have on-line help files. Is it the case with NasherNet ? A. In addition to the user guide, there is a powerful and comprehensive online help in Arabic, English and French. Q. Can NasherNet run on the Web? A. NasherNet is web based, and runs on the Internet and Intranet. Q. Can NasherNet search in Office files? A. NasherNet can extract text from Office files in order to be indexed for later search and retrieval tasks. Q. Does NasherNet support XML files? A. NasherNet can process, export and import XML standard files. It enables you to export any section of the database contents in XML format, and import XML files to the database. You can also view these XML files inside the browser without the need to any other applications. Q. Sometimes, I need to save the search queries in order to be used later. Can this be done through NasherNet ? A. Yes, this can help in saving the complicated search queries instead of creating it time after time. Q. Does NasherNet integrate with the Workflow systems? A. NasherNet has a built in customizable, integrated, and easy to use workflow system, featuring Archival, Publishing and Deletion workflows. Q. When I modify a document, can I keep the original copy? A. Sure, the system allows more than one version of the document with no limits.




Category: Internet
Supporting language: Arabic
Platforms/media types: Windows

NasherNet Administration The system administrator creates users and groups, he also: Defines the work area in which he wants to enable the users to work. Creates the authority for every user and group to deal with content in channels, workflows, and stages. Creates Channels and workflows. Creates search filters, and many other tasks. NasherNet Integration NasherNet is customizable, so you can easily modify it to suit your preferences and special needs. You can even integrate NasherNet with other Sakhr tools and solutions for content gathering, data and documents processing and management, such as: Johaina: for newsgathering. OCR: for optical character recognition ArabDox : for Arabic document management Corrector: to automatically detect and correct common Arabic mistakes Keyword Extractor: to extract main keywords or phrases Categorizer: To classify content in a hierarchical tree Summarizer: to automatically generate a summary NasherNet handles the content throughout the following stages: Gathering NasherNet provides different plug-ins to automatically receive the online dynamic content and direct it to the system repository. Content arrive from different sources, such as: Content contributors inside the company Remote authors and reporters News agencies Dynamic content providers. Creation NasherNet provides a user-friendly bilingual Web-based interface for content contributors inside and outside the company to be able to create their own contents. Users can easily create and edit their articles and media using a simple HTML editor. Storage and Management Content is stored in a central database (repository), the system supports MS SQL and Oracle. Content is assigned editorial workflows for publishing, archiving or deletion: The system arranges content in channels, where any content source can be easily auto-linked to channels. Channel content is assigned certain editorial workflows, where the system administrator defines the workflow for the content in every channel, and assigns users to every stage in the workflow. Distribution Approved content can be distributed to different electronic endpoints, such as: News portals. Websites. Periodicals Websites: NasherNet creates, publishes, and manages daily, weekly, and monthly newspapers and magazines websites. Electronic newsletters: the system arranges content and sends it automatically to registered users emails in the form of electronic newsletters. Electronic reports: the system arranges content and sends it automatically to certain users in the form of electronic reports. SMS messages: the system arranges content and sends it automatically as SMS messages. WAP: the system arranges content to be viewed using WAP devices. Analysis NasherNet has an analysis mechanism that does: System user reports: user access time, user exit time, user idle periods, number of transactions for every user, kind of transactions…etc. Content reports: content sources, history of every content item…etc. Search To help users create new content, NasherNet provides search to the content in the repository. NasherNet also provides advanced search on the content after publishing. The system administrator can create advanced and complicated search templates (filters), and make the filters available for all users to search in the content without having to form the same complicated query every time. The user can also create custom search filters and share them with other users. Sakhr bilingual search engine Idrisi applies its unique and advanced free text search techniques on the published content. Moreover, NasherNet provides other useful features such as: Storing materials in a hierarchical tree of channels (folders) and providing an authentication definition per channel. Providing the ability to define the workflow per channel; i.e., the content must follow such a flow until the last stage before it is ready for publishing. Providing a technique to define periodical activities (deleting, archiving, etc.) Mapping the material to a system channel, and automatically grabbing this material into these channels and giving it an initial categorization (defined per channel). Giving the system user private access to his material through the ability to Check Out/In such material. Enabling users to modify any material or relate materials to each other. Providing a notification engine to transfer information among system users. Providing users with reminders to alert them on time. Providing a thesaurus system to help in decreasing data redundancy and creating the material easily. Having capability of adding new Add-ons to the system to help gathering materials from different news sources.