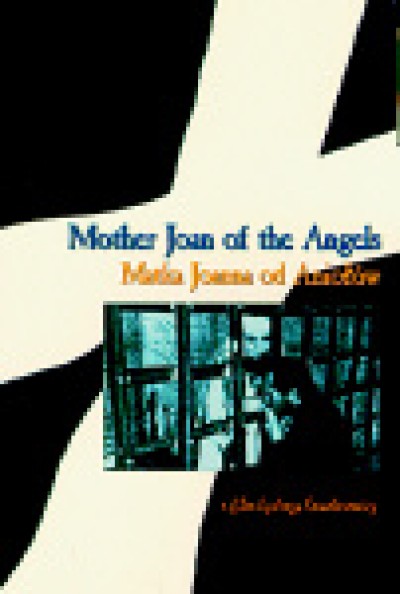 Mother Joan of the Angels (DVD)
Buy now for

$49.95


We ship worldwide. Bulk and academic discounts available -- contact us for pricing.


Ships within 3 business days.




One of the landmarks of modern Polish cinema, this gripping adaptation of Aldous Huxley's The Devils of Loudun (like Ken Russell's The Devils), transposes the action to a 17th-century Polish convent, where a priest investigates demonic possession among nuns. But the exorcist finds himself involved in an unavoidable mutual attraction with the Mother Superior. Full of brilliant symbolism, Kawalerowicz weaves a powerful allegory of good vs. evil, chastity vs. eroticism. Polish with English subtitles.

Klasztor na polskich kresach w XVIII wieku. Do opetanej przez demony przeoryszy Joanny przyjezdza na egzorcyzmy ksiadz Suryn, ale jego misja konczy sie, gdy miedzy nim a Joanna rodzi sie spontaniczne uczucie. Chcac ocalic Joanne, popelnia na niewinnych parobkach absurdalna zbrodnie, skazujac tym samym swoja dusze na wieczne potepienie. Zarazony potrzeba fizycznej milosci, ktora uzmyslowila mu Joanna, staje sie ofiara falszywych idei plynacych z jego niezlomnej wiary w dogmaty. Budzace sie w nich uczucia nazywa opetaniem, ludzac sie, ze prawda o duszy i ciele czlowieka zostanie w ten sposob stlumiona. Dramat dajacy sie interpretowac w kategoriach uniwersalnych jako studium psychologii czlowieka badajacego odpornosc na dobrowolnie przyjete ograniczenia wlasnej natury oraz narzucone zakazy. Na ten psychologiczno-filozoficzny watek nakladaja sie rozwazania o dogmatach ograniczajacych czlowieka, o roznych rodzajach milosci wymagajacej zawsze - zgodnie z prawami natury - spelnienia, czy wreszcie o nieznajomosci wlasnej duszy prowadzacej w konsekwencji do tragedii. Jeden z najpiekniejszych wizualnie filmow polskich. Rezyseria/Director: Jerzy Kawalerowicz ; Scenarius/Screenplay (wedlug noweli Jaroslawa Iwaszkiewicza): Tadeusz Konwicki , Jerzy Kawalerowicz ; Zdjecia/Photography: Jerzy Wojcik ; Scenografia/Scenography: Roman Mann , Tadeusz Wybult ; Muzyka/Music: Adam Walacinski ;

Obsada/Cast: Lucyna Winnicka (matka Joanna), Mieczyslaw Voit (ksiadz Suryn i Cadyk), Anna Ciepielewska (Malgorzata), Maria Chwalibog (karczmarka Awdonia), Kazimierz Fabisiak (ksiadz Brym), Stanislaw Jasiukiewicz (Chrzaszczewski), Zygmunt Zintel (Wolodkowicz), Franciszek Pieczka (Odryn), Jerzy Kaczmarek (Kaziuk), Jaroslaw Kuszewski (Juraj), Lech Wojciechowski , Marian Nosek , Teresa Wojcik , Zygmunt Malawski , Monika Ziomek . Produkcja/Produced by: Ludwik Hager , Zespol " Kadr ", Rok produkcji/Produced in 1961 ; Czarno-bialy/B&W. Premiera/Premiere: 9 III 1961 , Warszawa. Nagroda Specjalna Jury na MFF w Cannes, 1961; "Krysztalowa Gwiazda" Francuskiej Akademii Filmowej, 1961, dla Lucyny Winnickiej; "Syrena Warszawska" Polskiej Krytyki Filmowej, 1962; Nagroda Ministra Kultury i Sztuki, 1962; Nagroda Mlodej Krytyki na MFF w Oberhausen, 1963.

By Jerzy Kawalerowicz. 1960, black & white. 108 mins. English Subtitles.