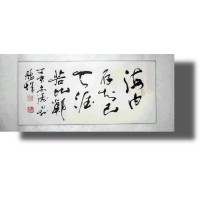 Master Original Chinese Calligraphy - Heart to heart, though far apart!
Buy now for

$149.00

(regularly $199.95)


We ship worldwide. Bulk and academic discounts available -- contact us for pricing.


Ships within 3 business days.




Black ink on natural rice paper, pasted on thick paper with a beautiful silk brocade border, (description of ??). Ready to frame. Size: 16¼" x 34½" You are looking at the one of a kind, Hand-brushed characters in cursive style - "Heart to heart, though far apart". It's a famous wording in Chinese to express the feeling of a close friendship. It is dated in Chinese of year Ding-Hei (2007), signed and ink-sealed by the Calligrapher Mr. Zhang. The cursive style is the hardest style to be mastered. Only with full understanding of the relationship between each stroke can make the final piece an art. The beautiful flow of the strokes connect the soul of the characters and presented in a total harmony way. Do not compare this with other Chinese calligraphy sold in other websites. Mr. Zhang is a good friend of my father and we got the exclusive right to sell some of his best works. Mr. Zhang's works are well recognized and famous in China. With over 60 years of practice, Mr. Zhang's technique has reached the highest perfection. This is the forever art piece and we are so fortune to have it on our site.




Categories: Art, Calligraphy
Supporting language: Chinese
Platforms/media types: Original Art
Specifications: Size: 16¼" x 34½"


Introduction to Calligrapher Zhitao Zhang Born in Shangrao, Jiangxi Province, 1941, and graduated from the Foreign Languages Department (English) of Amoy University, China, 1966, Mr. Zhitao ZHANG is now a famous calligrapher in China. He is a member of the China Association of Calligraphers (Shanghai), a member of the Culture and Art Committee of the Chinese Culture Association for Research of Eminent Chinese and Foreigners (DNK No. A51), a calligrapher appointed by the association, and an "International Well-Known Artistic Person of Painting Calligraphy and Seal Cutting" awarded by the four organizations of China Chuanfu Calligraphy and Painting Academy and so on. Zhang also won the title of "Son of the East" (????) by competent institutions of China mainland and Hong Kong. Starting to learn handwriting with a Chinese brush at the age of five in a private school more than 60 years ago, Zhitao Zhang has accumulated a great deal in the art of Chinese calligraphy. Over the past 20 years or so, he has been awarded with prizes in nation-wide contests in painting and calligraphic works fore nearly 20 times for his unique and excellent calligraphic works. Featuring traditional craftsmanship and modern charm alike, his calligraphic works remind their viewers of waterfalls, floating clouds, strong pines or grotesque cypresses. The three Chinese characters "???" (meaning Goddess "Ceres") Zhang wrote were well accepted by FAO (Food and Agriculture Organization, UN) in 1985 as the title of one of its publications in Chinese. Zhang's calligraphic works have been admitted into painting and calligrapy collections including but not limited to: Selected Calligraphic Works with Modern and Ancient Ink Intimacy (1995) The Appreciation of 20th Cetury World Calligraphy Works (1997) Collection of Chinese Calligraphic Works 1978-1998 (1998) China Soul-A Song of Praise to the Development Pioneers (2006)