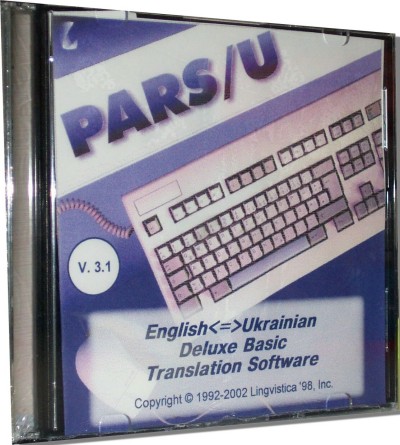 Lingvistica - PARS/U English<=>Ukrainian Translation - Deluxe Basic
Buy now for

$119.95

We ship worldwide. Bulk and academic discounts available -- contact us for pricing.


Ships in 3 - 5 business days.




The PARS/Ukrainian translation software comes in 2 editions: PARS Basic and PARS Deluxe. PARS ships as a physical package, or can be delivered electronically, over the Internet--downloadable versions of this software are available for your convenience.

PARS/Ukrainian Basic:
Based on a General Dictionary containing about 50,000 words and phrases in each direction--the total number of word forms recognized is much greater.

100% integrated with MS Word.

Lets you also translate file-to-file, and allows you to create, edit and update your own dictionaries.
Besides these components and characteristics, the Deluxe edition of the PARS/Ukrainian translation software, in all its 2 versions--Standard and Professional, features:

On-the-fly translation of Web pages (Internet Explorer 5.5 or above is required), and a Drag 'n' Drop translation mode. (The latter allows you to capture a portion of text in any Windows application, such as your E-mail program, and have it translated by simply dragging and dropping it on the PARS icon.)

On top of this, PARS Deluxe Professional adds 5 specialized dictionaries listed below:

Business and Law - 20,000 Entries

Computers & Telecommunications - 35,000 Entries

Ecology - 20,000 Entries

Technology, Basic - 3,000 Entries

Military/Aviation - 45,000 Entries




Product ID: 43176 ISBN-10: 1894690036

Categories: Software - Windows, Translation
Supporting language: Ukrainian
Platforms/media types: Windows 95/98, Windows NT, Windows XP, CD-Rom, Windows 2000, Windows ME
Specifications:
A PC running MS Windows 95/98/Me or NT/2000/XP.
Word for Windows, version 6, 7, '97, 2000 is recommended (though not required).