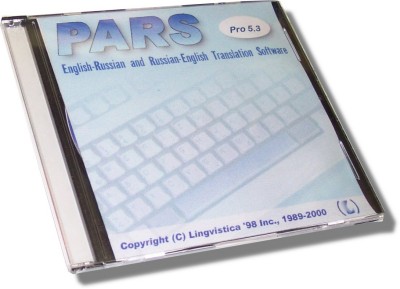 Lingvistica - PARS English<=>Russian Translation Deluxe Professional
Buy now for

$199.95
We ship worldwide. Bulk and academic discounts available -- contact us for pricing.
Ships in 3 - 5 business days.
Lingvistica: PARS English<=>Russian Translation Deluxe Professional (Up to 5 additional dictionaries chosen by the customer)
---
PARS Deluxe is supplied as a Basic, Professional, or Complete version. The difference is in the number of dictionaries included: the Basic version only has the general dictionaries; the Professional version has up to 5 additional specialist dictionaries selected by the customer; the Complete version has all the 26 specialist dictionaries developed by our company.

Besides the program and dictionary files, the PARS CD has a user guide - User_Guide.Doc. Please refer to it for details on PARS. That's an MS Word file, which you can open/print using your MS Word.

To install PARS on your computer, please run SETUP.EXE from the PARS CD and follow the installer prompts. If you are a beginner, we recommend you to choose the default modes suggested by the installer.




How to use it: PARS/U can be started directly from MS Word 6.0, 7.0, 97, 2000.

You can also translate texts if you have no MS Word on your computer. After the program has been installed, Word main menu has the command for activating the translation program, and some commands used for post-editing the target text.

If you installed more than one PARS/U, for translating between several language pairs, there will be the corresponding number of translation activation commands in the Translate submenu. For example, if you installed PARS/Russian and PARS/Ukrainian, you will see 2 such commands: English<->Russian and English<->Ukrainian.

Testimonials about PARS/Ukrainian:

I am a registered and licensed user of Pars/U for the last 2 years. I have been very happy with the program as it has allowed me to communicate with my relatives in Ukraine. You have an outstanding product that I like to use. Thanks!

Andy Paproski, USA.

I love your software. It has helped my fiancee and I so much (she is Ukrainian, I am American).

Dennis Dietzel, USA.

I want to thank you for the use of your translation program. It was very convenient and helpful. An e-mail friend from the Ukraine is now at Vanderbilt University on a Fullbright Scholarship and I needed to write to her son and a colleague of hers. Thank you for providing me that opportunity!

Nancy, USA.

I like it very much. Overall, the PARS/U has helped me translate things I would have never tried without this technological achievement (i.e. computer software).

Nicholas Zabrodsky, USA.

Love what I see! Am going to recommend this program to some other people.

Roman, USA.