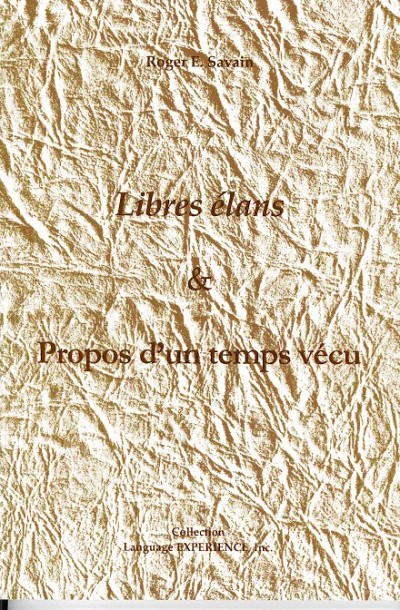 Libres elans & Propos d'un temps vecu / Haiti Through Roger E. Savain's Lenses by Roger Savain
Buy now for

$12.95

We ship worldwide. Bulk and academic discounts available -- contact us for pricing.


In Stock. Ships within 2 business days.




Language Experience, Inc. announces the publication of Libres élans & Propos d'un temps vécu. This chronicle by Roger E. Savain, spans a half century of contemporary Haitian events. In vivid prose and some poetry illustrated by the artist Louis Louissant, this collection of previously published opinion pieces and essays provides a front seat view to the flow of issues and ideas that were at the center of Haitian conversation.




Product ID: 105775 ISBN-10: 0967244846

It is also a very personal offering from a life and long career that has seen the author in the role of diplomat, high government official, university administrator, businessman, husband, father and grandfather. Roger Savain, is of course well known for his significant work in Haitian Kreyol, over the past 20 years and his long running column, Tèt Ansam, in The Haitian Times. In a change of pace, this volume is rendered in French, Haiti's other official language. In his review of this book, Maximilien Laroche, professor of literature at Quebec's Laval University, finds that having read Libres élans & Propos d'un temps vécu, he likes it very much. "I am particularly impressed to see that ideas expressed years ago are still appropriate today." Yet the wisdom to pick them up and apply them, he laments, eludes us still Libres élans & Propos d'un temps vécu takes us on a journey of reflection and observation that have remained relevant through the decades over which Roger Savain has composed his essays. His love of the Haitian people and unbending faith in the promise of a better Haiti is the running theme that cannot fail to draw the reader into the work's unique brand of optimism. In the book's Postscript, Dr. Fritz Fontus echoes that observation and notes that: "Even a superficial reading of Savain's work reveals a wise observer, a man of vision who has collected an abundant harvest during his career." Judging the analysis consistently constructive, he finds "every now and then, a bright light on problems of our country that seem perennially without solutions." Finally he is confident in his assertion that that Mr. Savain " has considered questions that deserve the attention of Haitians eager to see our country finally take the road of progress …" Although eclectic in their scope and interests, the ideas presented revolve around a basic set of concerns. These include education, the economy, the struggle for democracy and political plurality, and of course, language. Here almost as salient as religion can be for other societies, the importance of French and Kreyol in Haitian society is examined frankly and the result is both incisive and provocative. Libres élans & Propos d'un temps vécu is an important document that captures the essence of the past 50 years and sets our sights on the future as the Republic of Haiti enters its third century.