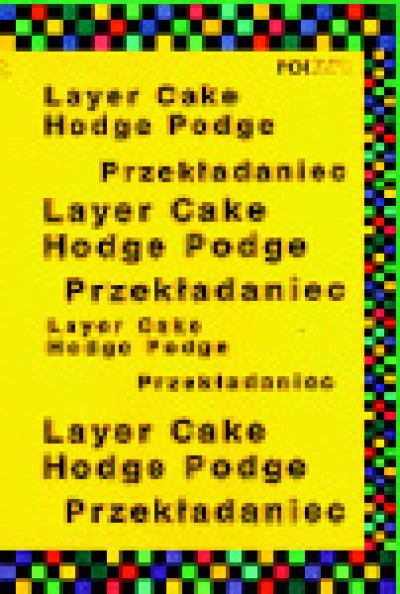 Layer Cake (Przekladaniec)
Buy now for

$42.95

We ship worldwide. Bulk and academic discounts available -- contact us for pricing.


Ships within 3 business days.




Based on Stanislav Lem's novel, this unusual comic film charts the unlucky life of the fictional race car driver Ryszard Fox. After so many accidents and so many internal organ transplants, he is forced to contemplate exactly how much of his body is really his. Polish with English subtitles.

Rok 2000. Rajdowi kierowcy, bracia Richard i Thomas Fox, biora udzial w kolejnym zostaja w wiekszosci przeszczepione innym osobnikom, w tym takze Richardowi. Towarzystwo ubezpieczeniowe redukuje wyplate odszkodowania do 30%, uzasadniajac decyzje faktem, ze 70% narzadow Thomasa normalnie funkcjonuje w cialach innych ludzi. Proceder ten jest nagminny i prowadzi czasami do osobliwych przypadkow: Richard poznaje ksiedza, ktoremu wszczepiona krtan kobiety uniemozliwia gloszenie kazan. Odszkodowania od rajdowca domaga sie takze wdowa po bracie, twierdzac, ze dzieki Thomasowi weszla w wyjatkowy zwiazek cielesny takze z Ricardem. W nastepnym rajdzie ginie osiem osob, wsrod nich szwagierka i pies. Richard ma w sobie coraz wiecej obcych narzadow; zaczyna reagowac jak kobieta, czasami przypomina czworonoga. Pewnego dnia do adwokata przychodzi juz tylko twarz Foxa z obcym tulowiem: efekt kolejnej, powypadkowej operacji chirurgicznej. Rezyseria: Andrzej Wajda; scenariusz (wedlug wlasnej noweli): Stanislaw Lem; zdjecia: Wieslaw Zdort; muzyka: Andrzej Markowski; scenografia: Teresa Barska; wykonawcy: Bogumil Kobiela (Richard Fox), Ryszard Filipski (adwokat), Anna Prucnal (zona Thomasa Foxa), Jerzy Zelnik (doktor Burton), Piotr Wysocki (doktor Benglow), Tadeusz Plucinski (falszywy ksladz), Wojciech Rajewski (czlowiek z psem), Marek Kobiela, Gerard Wilk, Ewa Gasowska, Marta Przyborzanka, "Niebiesko-Czarni". Produkcja: Barbara Pec-Selsicka, Zespol "Kamera" dla TVP, WFD Warszawa, 1968; czarno-bialy. Medal Specjalny na MFF Fantastycznych w Sitges, 1970.

By Andrzej Wajda. 1968. 35 mins. In Polish With English Subtitles.