LaserHieroglyphics for Windows
Buy now for

$199.95


We ship worldwide. Bulk and academic discounts available -- contact us for pricing.


Ships within 3 business days.




LaserHieroglyphics for Windows

Summary: LaserHieroglyphics provides over 1000 characters with both left- and right-facing glyphs in 16 TrueType and Type 1 fonts designed for Egyptologists and students of hieroglyphics. The fonts contain all the signs in Gardiner's Egyptian Grammar3 with many additions, all with both left- and right-facing glyphs. They are designed after the standard sign list of Gardiner and contain 234 overstrike keys for composite hieroglyphs. Also included is a Times-style DiacriticsLS font for transliteration. Included are eight "lacuna" keys for showing erasures (six with overstriking capability). The character keystroke charts follow Gardiner's order and a keyboard layout chart is included for the DiacriticsLS font. Now you can type papers with hieroglyphics included without having to leave spaces for later insertion!

The fonts install into Microsoft® Windows XP, 2000, NT, Me, 98, 95, or 3.1x, and work with all Windows XP-, 2000-, NT-, Me-, 98-, 95- and 3.1x-compatible applications that allow the user to select fonts from a font menu. The Type 1 fonts require Adobe Type Manager® in Windows Me/98/95/3.1. The product includes a User's Manual, keyboard layout chart(s), and Character Code Tables showing every character in the font(s). The included Keyboard Switcher (keyboard driver) allows access to four characters per key (instead of the normal two) and alternate keyboard layouts. The fonts alone (without Keyboard Switcher) will install into Linux, but Linux users must provide alternate keyboard input for characters in the extended character set. These fonts will print to any printer at the highest quality allowed by your printer. There are three input methods for the hieroglyphs. Two methods are supported in any text editor. The user looks up the glyph in the included User's Manual and enters it with the keystrokes shown in the manual. The third input method, which follows Gardiner's Grammar, requires Microsoft Word for Windows. For scholars who know Gardiner's Grammar, this is the easiest and fastest method of input; it does not require you to look up the signs in the included sign list. You simply type the code assigned by Gardiner and press F3. For example, to enter the "seated man" you type a1 and press F3. Transliteration can be entered with the included DiacriticsLS font.
This product is not returnable or refundable for any reason. This is the publisher's policy.




Categories: Fonts, Software - Windows, System
Supporting language: Hieroglyphics
Platforms/media types: Windows 95/98, Windows NT, Windows XP, OS-2, CD-Rom, Windows 2000
Specifications: Windows XP, 2000, NT, 98, 95 or 3.1x

Some of the more than 1000 hieroglyphs in the 8 left-facing fonts in the product. All glyphs are duplicated in right-facing forms in an additional 8 fonts.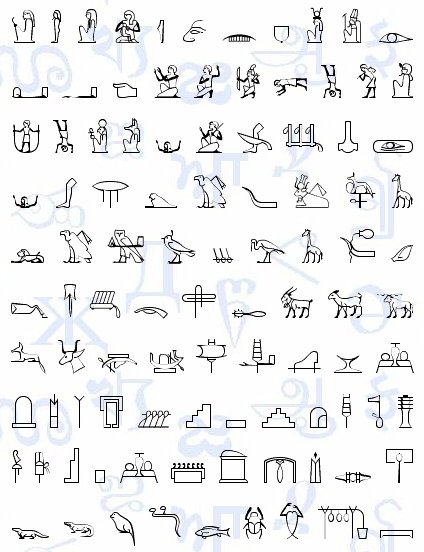 A small sample of the right-facing glyphs: