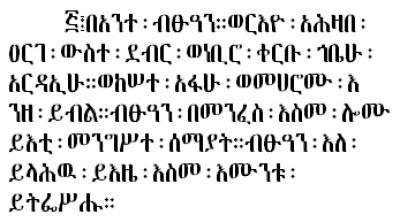 LaserAmharic for Mac V10.0 + (Unicode)
Buy now for

$199.95

We ship worldwide. Bulk and academic discounts available -- contact us for pricing.


* * * This item is a SPECIAL ORDER and may not be canceled, is non-refundable, and must be prepaid. Click for more details. * * *




Ships within 2 business days.




LaserAmharic in Unicode provides 6 high-quality, Unicode-encoded Amharic (or Ethiopic) TrueType« fonts in two typestyles (EthiopicLSU and AmharicLSU) for typing at least 26 languages in the Hamito-Semitic family of languages which use the Ge'ez script. (See below for a list of languages). The LaserAmharic in Unicode fonts include separate composite forms of each character in the Amharic Syllabary. The text is therefore balanced in form and beautiful, both on screen and in print. The fonts also include the Latin 1 character set and additional Latin characters and diacritics covering many other Latin languages. Ethiopic languages are commonly typed with either a wide blank wordspace or a wide space with dots (). In addition, modern and ancient Ethiopic text may differ in the width of the other punctuation (either narrow or wide). Currently, the Unicode standard only includes the narrow English space and the wide Ethiopic space with dots (and not the wide blank wordspace). Furthermore, Windows and the Macintosh Operating Systems will only justify text using the space that is in the regular English space position in the font. This means that Ethiopic text normally cannot be justified in your files. The LaserAmharic in Unicode fonts support the various requirements of Ethiopic text by having three versions of both typestyles of the fonts. The user can choose combinations of the wide blank wordspace, the wordspace with dots, and narrow or wide Ethiopic punctuation. One of the pairs of fonts even allows full justification of Ethiopic text, normally not supported by either Windows or the Macintosh. LaserAmharic in Unicode includes two deadkey keyboard layouts that provide four characters per key (instead of the normal two) for easy, intuitive input of 1) the Ethiopic languages; and 2) English and other western Latin languages. The Ethiopic keyboard calls up the appropriate syllable as you type it.




Categories: Fonts, System
Supporting languages: Amharic, Ge'ez, Gurage, Tigrinya
Platforms/media types: Mac
Specifications: Operating Systems bullet Mac OS X 10.2 (Jaguar) or higher bullet Applications bullet Any Unicode-compatible application. bullet The only Macintosh applications we are aware of that support Unicode at this time are Microsoft Word 2008 and 2004, Nisus Writer Express, InDesign CS, TextEdit (included with Mac OS X), Mellel, Oxygen, BBEdit, and OpenOffice. We have only tested the fonts in Word 2004, Nisus Writer Express and TextEdit. (If you are aware of additional applications please let us know.) bullet Notes bullet These fonts are compatible with the Windows version of LaserAmharic in Unicode. No conversion of files is necessary when transferring files to Windows if your applications are fully Unicode-aware and compatible fonts are installed on both systems.

Languages supported by LaserAmharic in Unicode: bullet Afar bullet Ethiopic Tigrina bullet Kebena bullet Somali bullet Agaw bullet Ge'ez bullet Kembata bullet Tigre bullet Amharic bullet Gedeo bullet Konso bullet Wolaita bullet Ari bullet Gumuz bullet Kunama bullet Tatar bullet Blin bullet Hadiyya bullet Me'en plus additional bullet Dizi bullet Harari bullet Oromo languages that use bullet Eritrean Tigrina (Tigri˝a, Tigrinya) bullet Kaffa bullet Saho the Ge'ez alphabet. Latin Languages covered by LaserAmharic in Unicode: bullet Afrikaans bullet English bullet Indonesian bullet Swedish bullet Basque bullet Finnish bullet Italian bullet Catalan bullet French bullet Norwegian plus additional bullet Danish bullet German bullet Portuguese languages covered bullet Dutch bullet Icelandic bullet Spanish by code page 1252 ========== In order to support both ancient and modern Ethiopic texts plus English, we provide the narrow (English-sized) blank space, the wide (Ethiopic-sized) blank wordspace (which is not yet in the Unicode standard), and the wide space with dots (which is part of the Unicode standard). We also provide the narrow Ethiopic punctuation commonly used today and the wide punctuation commonly used in ancient texts. To do this we have created three versions of each typestyle. All six fonts are included in the product with instructions to help you decide which font to use for your projects. Following are descriptions of the three versions of the fonts.