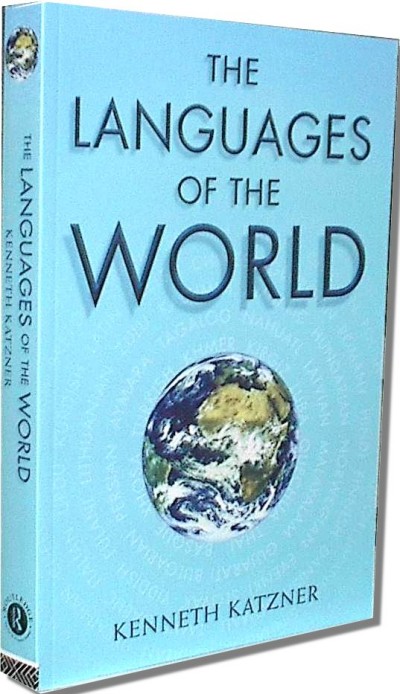 Languages of the World (paperback) 3rd Edition
Buy now for

$65.00


We ship worldwide. Bulk and academic discounts available -- contact us for pricing.


Ships in 3 - 5 business days.




The Languages of the World has long been the essential handbook for al language students and linguists. It has now been revised and updated to reflect the latest changes in the world map and in the number of speakers of each language.

This concise reference source provides the reader with a wealth of information on the world's languages. Samples of native scripts are provided for many unfamiliar and exotic languages.

The book features:

a chart of the world's language families which shows clearly the relationship between different languages and subfamilies.

sample texts and translations for nearly 200 languages.

a country-by-country survey, listing every country in the world, with information about its principal languages, the number of speakers of each, and the part of the country in which it is spoken.
Product ID: 3010 ISBN-13: 9780415250047 ISBN-10: 0415250048
Category:
Reference
Supporting languages: Abazinian, Acholi, Adamawa, Adangme, Adygei, Afar, Afrikaans, Agni, Ainu, Akkadian, Albanian, Aleut, Altai, Amharic, Anyi, Aramaic, Aranda (Arunta), Arapaho, Araucanian, Arawak, Armenian, Arunta, Assamese, Assinaboin, Assyrian, Avar, Aymara, Azerbaijani, Babylonian, Bahnar, Baining, Balante, Balinese, Balkar, Baluchi, Bambara, Banda, Bari, Bashkir, Basque, Bassa, Batak, Baule, Beja, Belarusian, Bemba, Bengali, Bhili, Bhojpuri, Bihari, Bikol, Blackfoot, Bodo, Brahui, Breton, Bribri, Bubi, Buginese, Bulgarian, Buluba-Lulua, Burushaski, Buryat, Bushman, Byelorussian, Cabecar, Caddoan, Cakchiquel, Cambodian (Khmer), Cantonese (Chinese), Carib, Carrier, Catalan, Cebuano, Cham, Chamorro, Chechen, Cheremis, Cherokee, Chewa, Cheyenne, Chickasaw, Chiga, Chilcotin, Chiluba, Chin, Chinantec, Chinese, Chingpaw, Chinyanja, Chipewyan, Chippewa, Chiquito, Choctaw, Chokwe, Chol, Chontal, Chuang, Chukchi, Chungchia, Chuvash, Circassian, Comanche, Coptic, Cornish, Cree, Creek, Creole, Croatian, Crow, Cuna, Czech, Dagbane, Dagomba, Dakota (Sioux, Lakota), Dargin, Delaware, Dinka, Djerma, Duala, Dutch, Dyola, Edo, Efik, Enga, English, Erse (Gaelica), Eskimo, Esperanto, Estonian, Even, Ewe, Fanakalo, Fang, Fanti, Faroese, Farsi (Persian), Fijian, Finnish, Flathead, Flemish, Fox, French, Frisian, Friulian, Fukienese (Taiwanese), Fulani-Adamawa, Fur, Ga, Gaelic, Galician, Galla, Garo, Gbaya-Manjia, Ge, Ge'ez, Georgian, German, Gilbertese, Gola, Greek (Classical), Greek (Modern), Guarani, Gujarati, Gurage, Gurma, Gypsy, Hadzapi (Hatsa), Haida, Hakka, Harari, Hatsi, Hausa, Hawaiian, Hebrew, Hehe, Herero, Hiligaynon, Hindi, Hindustani, Ho, Hopi, Hottentot, Hsiang, Huastec, Hungarian, Ibibio, Ibo, Icelandic, Idoma, Igbo, Igorot, Ijaw, Ilocano, Ingush, Interlingua, Irish, Iroquoian, Italian, Itelmen (Kamchadal), Japanese, Jarai, Javanese, Jivaro, Jonkha, Kabardian, Kabre, Kachin, Kalmyk, Kamba, Kamchadal, Kanarese, Kannada, Kanuri, Kara-Kalpak, Karachai, Karamojong, Karen, Kashmiri, Kawa, Kazakh, Kechua - See Quechua, Kekchi, Keresan, Ket (Yenisei-Ostyak), Khakass, Khalkha - See Mongolian, Khanty, Khasi, Khmer (Cambodian), Kiga, Kikongo - See Kongo, Kikuyu, Kimbundu - See Umbundu, Kingwana - See Swahili, Kinyarwanda, Kiowa, Kirgiz (Kirghiz), Kirundi, Kiswahili - See Swahili, Kituba, Klamath, Komi, Kongo, Konkani - See Marathi, Korean, Korku, Koryak, Kpelle, Krio, Kru, Kui, Kumyk, Kurdish, Kurukh (Oraon), Kwakiutl, Kâte, Ladin, Ladino, Lahu, Lak, Lango, Lao, Lappish, Latin, Latvian, Lepcha, Lettish (see also Latvian), Lexembourgesh, Lezgin, Lillooet, Lingala, Lisu, Lithuanian, Lolo, Loma, Lozi, Luba, Luganda, Lugbara, Lunda, Luo, Lusatian, Lushei, Luvale, Luxembourgian, Lwea, Maba, Macedonian, Madi, Madurese, Magahi - See Bihari, Maithili - See Bihari, Makonde, Makua, Malagache, Malagasy, Malay, Malayalam, Maldivian, Malinke, Maltese, Mam, Manchu, Mandarin - See Chinese, Mangbetu, Manx, Maori, Maranao, Marathi, Mari, Marind, Marquesan, Marshallese, Masai, Maskito, Maya (Quiche), Mayan, Mayo, Mazahua, Mbum, Mbundu, Meithei, Mende, Miao, Micmac, Min, Minangkabau, Miskito, Mixe, Mixtec, Mohave, Mohawk, Moldavian, Mon, Mongo, Mongolian, Mordvin, More, Moso, Mosquito, Mossi, Motu, Mundari, Muong, Murmi, Murngin, Nahuatl, Nakhi, Nama, Nanai, Naskapi, Nauruan, Navajo, Ndebele, Newari, Nez Perce, Nganasan, Nicobarese, Nimboran, Niuean, Nivkh(Gilyak), Nkole, Nogai, Nootka, Norwegian, Nubian, Nung, Nupe, Nyamwezi, Nyanja, Nyankole, Nyoro, Occidental, Odul, Ojibwa (Otchipwe), Okanagan, Omaha, Oneida, Oraon, Oriya, Osage, Ossetian, Ostyak, Ostyak-Samoyed, Otomi, Palau, Palaung, Pampangan, Pangasinan, Panoan, Papago, Papiamento, Pashto, Passamaquoddy, Pawnee, Pedi, Persian (Farsi), Pidgin English (Tok Pisin), Pilipino, Pima, Pokot, Police Motu, Polish, Ponapean, Portuguese, Poular, Provencal, Punjabi, Puyi, Quechua, Quiché, Rajasthani, Rarotongan, Rhade, Rhaeto-Romance, Riffian, Romanian, Romany, Rumanian, Rundi, Russian, Rwanda, Samaran, Samoan, Sango-Yakoma-Ngbandi, Sanskrit, Santhali, Sara, Saramacca, Sardinian, Savara, Scottish Gaelic, Sedang, Selkup, Seminole, Seneca, Senufo, Serbian, Serbo-Croatian, Serer-Nono, Sesotho, Setswana, Shan, Shawia, Shluh, Shona, Shoshoni, Shuswap, Sibo, Sidamo, Sindhi, Sinhalese, Sioux, Siswati, Slovak, Slovenian, Somali, Sora, Sorbian, Sotho, South Arabian, Spanish, Sudanese, Suk, Sukuma, Susu, Swahili, Swazi, Swedish, Syriac, Tabasaran, Tacana, Tadzhik, Tagalog, Tahitian, Tajik, Taki-Taki, Tamashek, Tamazight (Berber), Tamil, Tarahumara, Tarasco, Tartar - See Tatar, Tatar, Tavgi, Teda, Telugu, Temne, Teso, Tewa, Thai, Thompson, Thonga, Tibbu, Tibetan, Tigre, Tigrinya, Tiv, Tiwa, Tlingit, Tonga, Tongan, Toro, Totonac, Towa, Tsimshian, Tsonga, Tswana, Turkish, Turkmen, Turkoman - See Turkmen, Twi, Tzeltal, Tzotzil, Udmurt, Uigur, Ukrainian, Umbundu, Urdu, Ute, Uzbek, Vietnamese, Visayan, Volapuk, Welsh, Wendish, Winnebago, Wolof, Xhosa, Yakima, Yakut, Yao (Asian), Yi, Yiddish, Yoruba, Yucatec, Yuma, Yurak - See Nenets, Zande, Zapotec, Zoque, Zulu, Zuni
Platforms/media types: Printed Matter
"'The Languages of the World' offers an excellent aid not only to linguists, to whom its importance is obvious, but also to anyone interested in international affiars or curious about the other inhabitants of the planet" - Charles Berlitz