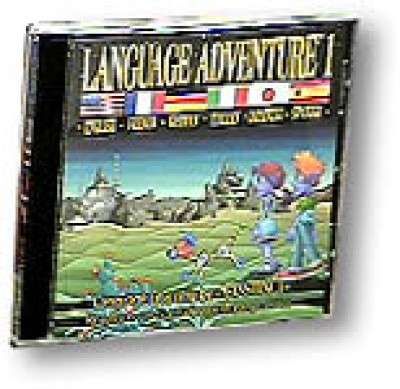 Language Adventure 1 (English/French/German/Italian/Japanese/Spanish)
Buy now for

$49.95

(regularly $59.95)


We ship worldwide. Bulk and academic discounts available -- contact us for pricing.


Ships in approximately 10 business days.




The Language Adventure was developed by Instinct with Stanford University second language researchers, teachers and children. Its approach is in accordance with the communicative based teaching recommended by the American Council on the Teaching of Foreign Languages. Its goal is simple _ to get a child to speak and understand a foreign language as quickly and enjoyably as possible. It does this by instantly capturing the attention and motivation of children as they get engrossed in a thrilling story. This adventure unfolds through a graduated series of animated lessons, each one unlocking once the previous one has been completed.





This multimedia software employs a natural language learning process that gets children telling a story and answering questions in a foreign language within minutes. The product is designed for ages 6 to 12 and teaches English, French, German, Italian, Japanese and Spanish.
Children learn to speak by receiving feedback on their effort in using a language. Language Adventure succeeds in activating this learning process in children at an age when they are most receptive. But what makes it exceptional is that the attention riveting drama of this CD ROM means children actually use it!
Theory The Breakthrough
Traditionally foreign languages have been taught through grammar and rote vocabulary learning. The idea behind this has been that if you can master the rules to which languages conform and learn lots of words you will be able to speak in a foreign tongue. Unfortunately, as any tongue tied student will corroborate, it is not an effective way of achieving communicative competency, not to mention the sheer tedium of it all. There are so many rules, so many exceptions and the leap from theory to actual practice is often blocked at the very moment you need it most - just when you are about to speak!
As a response to this, a movement developed to try to replicate how one learns one's first language in teaching a second one. While immersing the student in the foreign language maximizes exposure to it in a more natural way, it ignores the fact that the student already speaks a language and so has a linguistic reference point. The brain still thinks in the native language making second language acquisition fundamentally different.
Language Adventure harnesses the power of the mimicking process in natural language learning and eschews the tedium of learning just grammatical rules. It provides repetition and correction in a structured and organized way thereby avoiding the confusion often associated by pure immersion. The lesson designs ensure that the sequence of learning is optimal, always building on themselves and providing the most useful words and phrases as rapidly as possible.
Product How it works
The program's animated lessons are constructed from over a thousand interactive exercises teaching the most important words and phrases. These fall into four basic categories: Narration, Quiz, Author and Discover exercises.
A narration exercise teaches pronunciation and vocabulary. When students reach a narration exercise, the animation will stop, requiring them to repeat and record what was just heard. After recording, students will immediately hear their own voice and the model narration thereby allowing instant comparison. The students can then re-record or if satisfied, go on to the next exercise which has now unlocked.
A quiz exercise teaches comprehension. Here, the student is asked by one of the characters to click on something. When the correct object is clicked the animation will continue. Quiz exercises are rich environments for learning and entertainment and consolidate learning by reinforcing what has just been taught.
An author exercise is where students can try out the new language for themselves. Here, students are asked to create an animated movie and add to it their own narration in the foreign language. This scene will then play as an integral part of the adventure. The author exercise is where students "put it all together" and enjoy the freedom of their own creative expression.
Discover exercises consist of hundreds of clickables interspersed throughout the lessons. Their purpose is to reinforce and expand the student's command of the foreign language. On clicking them, a relevant word or phrase will be introduced accompanied by a short animation which may take the movie into hilarious directions.
Language Adventure can be considered the tracing paper for speech. In the same way as tracing pictures vastly accelerates a child's ability to draw, this software enables a child to accurately mimic a foreign tongue in a most delightful and rewarding way. But the true high point of Language Adventure is when a lesson is completed and watched in its entirety with only the student's narration. The thrill is indescribable as children hear themselves speaking a foreign language in an action packed adventure of their own making.
Key Features

Multi-student and omni directional
Language Adventure supports any number of students wishing to learn any of its six languages. Furthermore, any of the languages may be set as the student's native tongue and any other as the language to be learned.

Story based learning
These episodic animations chronicle the misadventures of Una and Om as they embark on an endless odyssey through time and space in pursuit of their dog Pico. The copious use of stunning graphics, animation, music and special effects draws children through the lessons as they step from one cliff hanger to the next. Students remain engaged and motivated, with learning becoming almost incidental to the fun and excitement.

Graduated curriculum
Exercises and lessons build on each other and follow rules regarding length, complexity and content. In this way the curriculum adapts to the student's progress and the language learned becomes instantly useful. The repetition-correction of natural learning The immediate repetition of the student's narration instantly followed by the model language, attunes the student's ear and tongue to the foreign language by replicating the way we learn languages naturally.
Changeable level setting
The program comes with 3 level settings: Pre-reader, Beginner or Advanced but can also be fully customized to suit a particular learning need. There is also an Observer mode where the adventures can be enjoyed passively with no requirement to do the exercises. While this product is designed for an age range of 6 to 12, Observer mode makes it suitable for children as young as two.

Student reports
The program generates detailed reports regarding the student's progress, effort and study time. These reports continuously update and can be printed.

Languages
Six Languages--you pick!
The first CD-ROM in the series "Language Adventure 1" supports English, French, German, Italian, Japanese, and Spanish.
The program is completely omni-directional. This means you can select any of the languages as your native language, and any other as the foreign language you wish to learn.
The curriculum is based on the work of Professor Amado Padilla of Stanford University in teaching young people a second language. It introduces the most commonly used vocabulary and grammar structures from all the different language groups. All language content has been developed by qualified native speakers.
After finishing Language Adventure 1 the student will have completed over1000 interactive exercises learning many of the most frequently used words and phrases.