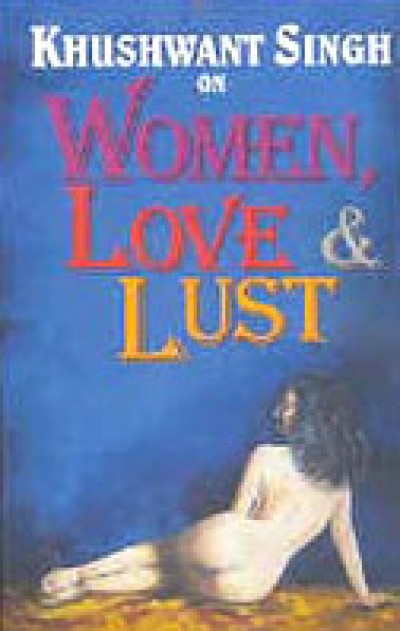 Khushwant Singh on Women, Love & Lust
Buy now for

$29.95

We ship worldwide. Bulk and academic discounts available -- contact us for pricing.
Ships in approximately 8 business days.
Introduction
WOMEN

Women's lib
Women Demand Their Birthright
Shrimati India
The Female Breast
When Can a Girl say Yes?
Female Porn
Thoughts on Marriage
When a Woman bares her Soul
Eyes
Confusions about Marriage
Men, Women, Sex and Marriage
The Beggar Maid

SEX

Nature and Sex in the Classics
Dirty Monsoon Musings
Libber at a Loss
Obscenity, Pornography, Erotica
Aphrodisiac
Our Own Virginity on Trial
The Right to go Nude
My Experiments with My Body
Acharya Rajneesh and Sex
Lying About Sex
Kama to Rama
]Black-out into Ecstasy
Whoring and the Law
The Male Venom
No Sex, We are Indians
Sex in Indian Life

LOVE & LUST

On Love, Lust and Four-Letter Words
Oodles of Love
Lover's Revenge
What is Love?
Outraged Correspondence
Love is Dead
Love and Lust in Germany
Love and Lust
On Loving Doctors
Love and Matrimony
The Language of Love I
The Language of Love II
Lover's Day
Talking of Love
Love is Dumb
Celibacy, Chastity and Love
The Divine Lover
The Many Faces of Krishna
The Art of Love Making
Loved

If you are looking for answers to eternal questions like which came first - love or lust - or debates pertaining to celibacy, chastity or arranged marriages, Khushwant Singh delivers his expose on such intimate matters within the pages of this volume.

Whether he is analyzing the fine diving line between obscenity, pornography and erotica, his description of sex from 'Chaturbhani' (200-350 BC) or describing his ideas of a composite Indian woman, Khushwant holds the reader's attention effortlessly. But that isn't all. Years before terms such as 'gender issues' or 'gender-divide' came into use, he spoke of them and recorded his thoughts. His deliberations reveal an unexpected side to Khushwant - in these pages, you'll find Khushwant, the feminist.

The book abounds with Indian as well as foreign myths, legends, proverbs and poems ranging from Chaucer, Shakespeare, Whitman to Kalidas, Iqbal and Faiz. There are delectable quotes from Russell to Wodehouse. And almost each page offers you special anecdotes, which could somehow come from Khushwant alone. Only he could share with you his intense experience of nudo-phobia suffered in Sweden, his acute observation of Indian whoremongers once they are abroad, scandals among amongst the literati and glitterati - H G Wells as a compulsive fornicator or George Simenon hammering away at his typewriter (and his women) as a routine at the age of 80 are only a few revelations.

Then his carnal curiosity gives way to more serious notes. He talks about Beatrice Faust's analysis of the female approach to pornography, Shulamith Firestone's philosophy of women's liberation, Sudhir Kakar's exploration of Indian sexuality. Further, highlights such as Khushwant's well-researched etymology of love related lexicon has much to teach including facts like how something as banal as bran works as the ultimate aphrodisiac.






Product ID: 46486 ISBN-10: 8187478403

Category: Literature
Supporting language: English
Platforms/media types: Printed Matter

About the Author

Khushwant Singh was born in 1915 in Hadali, Punjab. He was educated at Government College, Lahore, and at King's College and the Inner Temple in London. He practiced at the Lahore High Court for several years before joining the Indian Ministry of External Affairs in 19477. He was sent on diplomatic postings to Canada and London and later went to Paris with UNESCO.

He began a distinguished career as a journalist with All India Radio in 1951. Since then he has been founder-editor of Yojna, editor of the Illustrated Weekly of India, editor of the National Herald, and the editor of The Hindustan Times. Today he is India's best known columnist and journalist.

Khushwant Singh has also had an extremely successful career as a writer. Among the works published are classic two-volume history of the Sikhs, several novels - including Train to Pakistan, which won the Grove Press Award for the best work of fiction in 1954, I Shall Not Hear the Nightingale and Delhi - and a number of translated works and non-fiction books on Delhi, nature, and current affairs. His latest novel, The Company of Women, has since been released.

Khushwant Singh was a Member of Parliament from 1980 to 1986. Among other honors he was awarded the Padma Bhushan in 1974 by the President of India. He returned this decoration in 1984 in protest against the Union Government's siege of the Golden Temple, Amritsar.