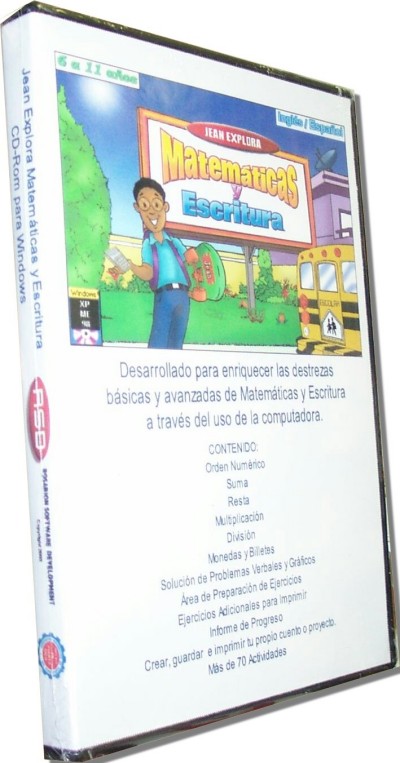 Jean Explores Mathematics and Writing (English/Spanish)
Buy now for

$34.95

(regularly $44.99)

We ship worldwide. Bulk and academic discounts available -- contact us for pricing.
In Stock. Ships within 2 business days.
Features:
Numerical Order
Addition
Subtraction
Multiplication
Division
Coin Activities
Problem Solving
Permits the creation of unlimited additional exercises
More than 60 activities
Permits the student to Illustrate, print, and save stories or projects that include pictures, music, sounds, even recoding of their own voices.




Categories: ESL Lessons, Learn, Mathematics, Software - Windows
Supporting languages: English, Spanish
Platforms/media types: Windows 95/98, Windows NT, CD-Rom, Windows 2000, Windows ME
Specifications:
16 MB of Ram
90 Hard Drive Space
CD-Rom, Microphone, Printer

Endorsed by renowned educators and experts in the educational field.
Mary E. Markowsky, Ph. D. Author of IBM Corporation Educational Software program.

María Inés García, M.A. Ed, helped in the translation of The Learning Company's best selling software program Children's Writing and Publishing Center, She served as Assistant Superintendent in charge of Curriculum, Technology and Federal Funding in the Puerto Rico Department of Education.

Extensively tested by school children, teachers and parents (third edition). Exercise preparation area for parents and teachers.

Randomly generated exercises, complete score tracking and printable progress reports, including certificates.

Two complete programs on one CD-Rom. The Department of Education of Puerto Rico has approved it and it is currently being used in many public schools as a pilot program called "Teachers and Students on their way to Excellence".

This is a great program for bilingual, multicultural learning due to the fact it gives equal weight to English and Spanish. By switching back and fourth it enables the students to gain confidence in their skills.