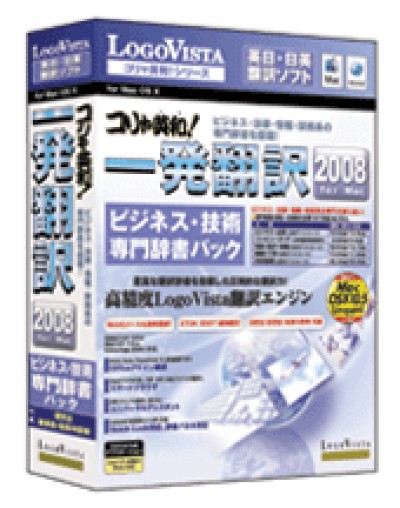 Japanese Translation for Mac - Korya Eiwa! Ippatsu Honyaku 2008 Business/ Professional Dictionary
Buy now for

$395.00

We ship worldwide. Bulk and academic discounts available -- contact us for pricing.


* * * This item is a SPECIAL ORDER and may not be canceled, is non-refundable, and must be prepaid. Click for more details. * * *




Ships in approximately 10 business days.




"Kolya English-Japanese! Translated at the touch of 2008 for Mac", specializing in business law information technology dictionary words plus 1.67 million package. Business documents, technical documents, and supports a variety of business situations. In addition, Web Mail PDF Office applications from the translation and editing work to the best bilingual format, "translating editor" with the power to translate. Your software may be the first time from the practical level it may be used with a range of needs it.




Category: Translation
Supporting language: Japanese
Platforms/media types: Mac
Specifications: Mac OS X 10.4 ~ Mac OS X 10.5 Japanese Edition (UNIX operating FAIRUSHISUTEMUFOMATTO partitions are not covered under warranty)

World authority in linguistics, professor emeritus at Harvard University??theory developed on the basis of the high-end translation engine. ???????????????????? More accurate translation can be done. ?????459??(??272?????187??)??????????24?????? Spanish translation dictionary is 4590000 (in English, 2720000, 1870000, in English), and the word up 240,000 from the previous version. ???????????????????????????????? The terms of the latest update feature can also be added. ????? Translation dictionary : : 459??(??272?????187??) 4.59 million (2.72 million in English, Italian, Japanese and English 1870000) (?????????:??28?????14?????) (Standard dictionary areas: English, 28 sectors, 14 sectors, including in English) ?????? User dictionary : : ????? In English, Japanese and English [Includes specialized dictionaries: English to Japanese / English language each of five areas: a total of 1.67 million entries.