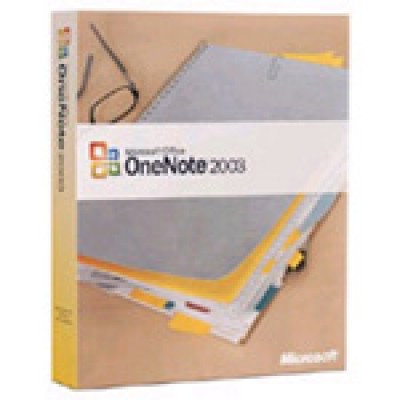 International MS OneNote 2003 - Complete package
Buy now for

$289.00

We ship worldwide. Bulk and academic discounts available -- contact us for pricing.


Ships in 5 - 7 business days.




Capture, organize, and reuse your notes on laptop computers, desktop computers, or Tablet PCs. OneNote 2003 gives you one place to store all your notes and the freedom to work with them how you want. It helps you capture information in multiple ways and then organize and use it according to your needs. OneNote 2003 combines the freedom and flexibility of paper notes with the efficiency and power of digital organizational tools. Be more productive with OneNote 2003 anywhere you work with notes - in meetings, at your desk, presentations, classes, phone conferences, or brainstorming sessions.




Category: General Office
Supporting language: English
Platforms/media types: Windows
Specifications: Microsoft Windows XP or later, Microsoft Windows 2000 SP3 or later Min Processor Type Intel Pentium - 233 MHz Min RAM Size 128 MB Min Hard Drive Space 100 MB Peripheral / Interface Devices SVGA monitor

Capture Information in Multiple Ways Take notes and collect information the way you want. Take notes anywhere on the page and put information wherever you want. You can move your cursor to any place on the screen and start typing. Record audio notes that are synchronized to your written notes to make sure you don't miss something important. Handwrite your notes or draw diagrams and pictures using a Tablet PC or a pen input device on your laptop computer or desktop computer. Put pictures, text, and other information from a Web site directly into OneNote 2003 using the drag-and-drop operation. OneNote automatically includes the Web address for you so that you can reference the information later. Organize Information Easily Organize your notes the way you want and be more productive. Create as many notebooks, folders, and pages as you need; customize them for how you work; and keep them all in one convenient place. Search your notes quickly and find what you need without having to know in which notebook, folder, or file you saved that information. Create and search Note Flags to highlight urgent action items. Your important tasks and reminders will always be easy to find. Combine, format, and rearrange notes by using a drag-and-drop operation to organize your notes in a way that makes sense to you. Access Information Quickly Have one convenient place to capture all of your notes and information. Immediately find your most recent notes without having to search through your folders or files. OneNote 2003 always opens at the page and notebook where you were last working. Write down pertinent information or leave yourself reminders with the OneNote Quick Pane, which can "float"—or stay open on top of the other programs you are using. Enjoy the security of knowing you won't lose data. Everything you capture in OneNote 2003 is automatically saved for you. Reuse and Share Notes Easily OneNote makes it easy to reuse and share your notes after you have captured them. Move, reformat, or combine notes from previous notebooks so that you can use them for other projects, tasks, or meetings. Use your notes in other Microsoft Office System programs such as Microsoft Office Word 2003, Microsoft Office Outlook® 2003, or Microsoft Office PowerPoint® 2003. E-mail your notes or publish them to a Web site, such as one built with Microsoft Windows SharePoint Services, so that you can share important points and ideas with others.