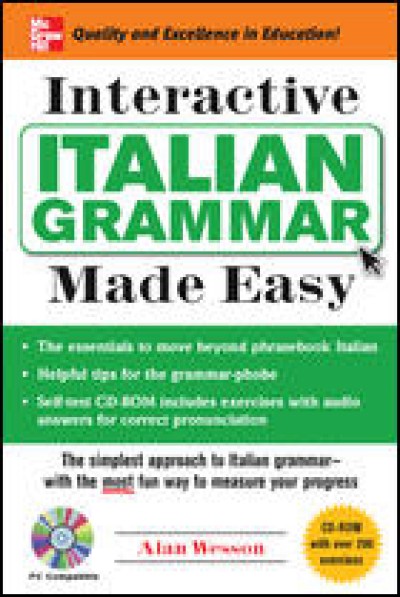 Interactive Italian Grammar Made Easy
Buy now for

$19.95

We ship worldwide. Bulk and academic discounts available -- contact us for pricing.
Ships in 3 - 5 business days.
Introducing an exciting new interactive resource for mastering Italian grammar basics
The best way to learn Italian--or any language--is through interactive instruction. Unfortunately, many people don't have the time for formal classes or private language tutors. Interactive Italian Grammar Made Easy solves that problem by providing a powerful new way to master Italian grammar basics that is authoritative, thorough, and very accessible. This fully integrated book/CD-ROM package features a jargon-free, basic introduction to Italian. The CD-ROM contains more than 220 interactive exercises linked to corresponding units in the book and features pop-up tips and audio of all vocabulary and answers. You can practice your listening and pronunciation skills while mastering grammar basics.



Product ID: 106646 ISBN-10: 0071460926
Category:
Learn
Supporting language:
Italian
Platforms/media types: CD-Rom, Printed Matter
1. Verbs 1.1 Talking about what you do 1.2 Talking about what you are doing now: 1.3 Negative, interrogatives and imperatives 1.4 The past tenses 1.5 The future tense and the conditional 1.6 The subjunctive 1.7 Other tenses 1.8 Useful expressions using verbs 2. Nouns and Determiners 2.1 Nouns and gender 2.2 Nouns and the words for the ': il, la etc 22:1 Singular nouns 2.3 Nouns in the plural: I, gli, and le 2.4 Nouns and the word for 'a': un, un' uno and una 2.5 How to tell if a noun is masculine of feminine 2.6 How to say 'my', 'you', his', her' etc. 2.7 More determiners 3. Pronouns 3.1 lo,tu, Lei,lui, lei, esso/essa, 3.2 lo, la, li, le,him,her, it, them, direct 3.3 Mi,ti, gli, le, ci 3.4 Me, te, lui, etc 3.5 Chi?, Che/che/cosa 4. Adjectives 4.1 What is an adjective? 4.2 The position of adjectives 4.3 Fast trackL adjectives 4.4 Comparative and superlative 4.5 Fast track: comparative and superlative 5. 5.1 Formation of adverbs 5.2 Fast track adverbs 6. 6.1 Recognising prepositions 6.2 Some common prepositions 6.3 Fast track prepositions 6.4 Other useful prepositions 7 Conjunctions and other useful words