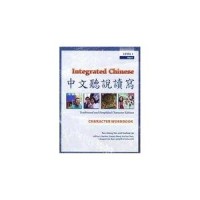 Integrated Chinese Lev 1 Part 1 Character Book 3rd Edition
Buy now for

$29.99

We ship worldwide. Bulk and academic discounts available -- contact us for pricing.


Ships within 3 business days.




Integrated Chinese Lev 1 Part 1 Character Book 3rd Edition

by Yuehua Liu





I've been very impressed with the Integrated Chinese language series since I began to use it just a few short months ago, and am completely amazed by how much easier these books make learning such a complex language. This character writing book is no exception. The authors of this book have made a concerted effort to break down chinese characters in to memorable parts, focusing initially on key radicals (syllables) and more common components, then working up in a sequence that makes recognizing, learning and writing more complex characters much easier. Each character in the book is given in Chinese and Pinyin with the English definitions. Character variations and traditional characters also given, when appropriate. Each character is then broken down into individual strokes and the correct stroke order for that character is shown (numbered). Each character is also accompanied with a row boxes for tracing the character, a row of boxes with gridlines, and a row of empty boxes, so that you can progress quickly, and you will know the correct way to write each character. This system makes learning chinese characters (and writing them correctly) surprisingly fast and easy. One key note on this text: Because it is intended to be used with the text book, this text itself is missing a proper explanatation (and the names) of each type of stroke, the correct way to draw those strokes and the general rules on stroke order, which is included in the corresponding text book (pages 16-17 & 20).