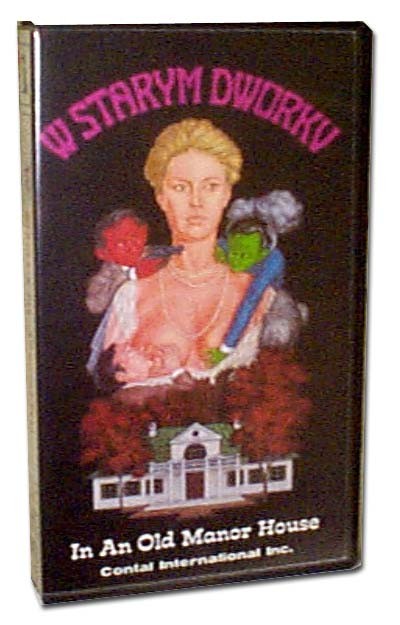 In an Old Manor House
Buy now for

$25.95

We ship worldwide. Bulk and academic discounts available -- contact us for pricing.


Ships within 3 business days.




Based on a play by the visionary Stanislaw Witkiewicz. The owner of an estate kills his wife after discovering her affair with his son of a previous marriage. Her ghost returns to he manor driving the inhabitants to the verge of insanity in this powerful film. Polish with English subtitles.

Dyapanazy, wlasciciel starego dworku, odkrywa romans swej pieknej zony Anastazji z malarzem Jezorym - swym synem z pierwszego malzenstwa - i zabija niewierna. Zalamany Jezory oddaje sie narkotycznym seansom. Osieroconym dziewczynkom Zosi i Marysi matke zastepuje Aneta. Niebawem, po rozmowie z ozywionym portretem Anastazji, Jezory zostaje kochankiem Anety, a dziewczynki zazywaja trucizne. Malarz postanawia powtornie zabic widmo Anastazji, ktora obdarza go synem Tadeuszem, ale kobieta znow pojawia sie na weselu Jezorego oraz Anety i nieustannie ingeruje w ich zycie. Plenipotent Korbowski zostaje kochankiem Anety. Dorastajacy Tadeusz oswiadcza, ze pragnie zwiazac sie ze swoja matka, co wywoluje przerazenie Jezorego. Wybuch rewolucji powoduje panike i chaotyczna ucieczke mieszkancow dworku. Tadeusz przewodzi zbuntowanym chlopom. Jezory popelnia samobojstwo, a jego ojciec zostaje zdeptany przez tlum. Na ruinach dworku triumfuje zjawa Anastazji. Wyrafinowany plastycznie dramat namietnosci w duchu surrealistycznej i odwaznej obyczajowo literatury Witkacego.

Rezyseria/Director: Andrzej Kotkowski ; Scenarius/Screenplay (wedlug watkow tworczosci Stanislawa Ignacego Witkiewicza): Andrzej Kotkowski ; Zdjecia/Photography: Witold Adamek ; Muzyka/Music: Zbigniew Raj ; Scenografia/Scenography: Malgorzata Zaleska , Lucyna Krzeminska , Teresa Smus , Wojciech Saloni , Stefan Burzynski ;

Obsada/Cast: Beata Tyszkiewicz (Anastazja), Gustaw Holoubek (Dyapanazy), Grazyna Szapolowska (Aneta), Jerzy Bonczak (Jezory), Tadeusz Chudecki (Tadzio), Jan Englert (Korbowski), Agnieszka Jozefowska (Marysia), Magdalena Scholl (Zosia), Feliks Szajnert (Maszejko), Zdzislaw Wardejn (Kozdron), Andrzej Buszewicz , Marian Maksymowicz , Danuta Morel , Andrzej Rausz , Adam Sandurski . Produkcja/Produced by: Wojciech Nowicki , Zespol " Rondo ", WFF LodZ , Rok produkcji/Produced in 1984 ; Barwny/Color, 97 mins. Premiera/Premiere: 22 IV 1985 , Warszawa. "Brazowe Lwy Gdanskie" za muzyke na FPFF w Gdansku, 1984.