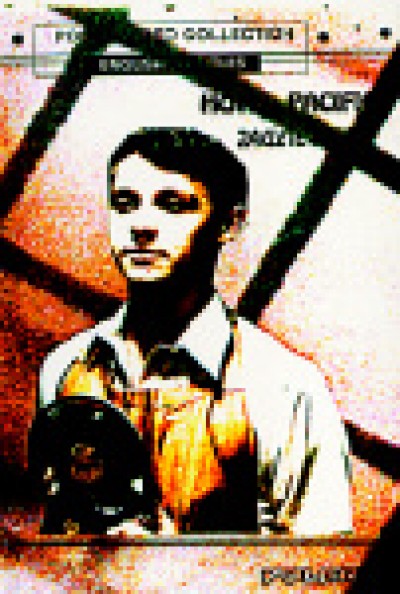 Hotel Pacific (Zaklete Rewiry)
Buy now for

$25.95

We ship worldwide. Bulk and academic discounts available -- contact us for pricing.


Ships within 3 business days.




The action of this film takes places in the 1930s. Roman Boryczko is looking for a job. He eventually finds employment as a dishwasher in the restaurant of the Pacific Hotel and quickly advances through the hotel hierarchy of posts. But the successive stages of his career also prove to be painful lessons in life. Polish with English subtitles.

Poczatek lat trzydziestych. Wiejski chlopak Roman Boryczko dostaje prace w restauracji luksusowego hotelu "Pacyfik". Szybka kariere od pomywacza do kelnera okupuje lawina upokorzen, szturchancow, zakazow i nakazow, pochodzacych glownie od sadystycznego kelnera Fornalskiego, na ktorym msci sie nabijajac mu sztucznie kase. Jest windowany do gory raczej silami restauracyjnego mechanizmu i przypadku niz wlasnych dazen. Gdy znajduje sie o krok od najwyzszego szczebla kelnerskiej drabiny, przychodzi nagle opamietanie. Boryczko sklada wymowienie. Nie mogac zniesc systemu, ktory lamie charaktery i wzbudza antagonizmy, odrzuca kombinatorstwo i intrygi, jakimi na co dzien posluguje sie jego "nauczyciel" Fornalski. Dokonuje tym samym dojrzalego wyboru wartosci, jakimi chce sie w zyciu kierowac. Zrealizowany z pietyzmem dla epoki ciag epizodow. Studium srodowiska podporzadkowanego scislym rygorom i rzadzonego wilczymi prawami.

Rezyseria/Director: Janusz Majewski ; Scenarius/Screenplay (wedlug powiesci Henryka Worcella): Pavel Hajný ; Zdjecia/Photography: Miroslav Ondřiček ; Muzyka/Music: Jerzy Matuszkiewicz ; Scenografia/Scenography: Tadeusz Wybult , Milan Nejedly , Janusz Sosnowski ;

Obsada/Cast: Marek Kondrat (Roman Boryczko), Roman Wilhelmi (Fornalski), Roman Skamene (Fryc), Čestmir Řanda (Pancer), Michal Pawlicki (Albin), Martin Hron (Heniek), Jaroslava Schallerová (Zoska), Stanislawa Celinska (Hela), Joanna Kasperska (Paulina), Wlodzimierz Borunski (redaktor Nowakowski), Czeslaw Wollejko (baron Humaniecki), Stanislaw Zaczyk , Tadeusz Drozda , Zdzislaw Maklakiewicz , Bronislaw Poloczek . Produkcja/Produced by: Tadeusz Drewno , Jan Luster , Zespol " Tor ", Filmowe Studio Barrandov Praha, WFF Lodz , Polska-CSRS , Rok produkcji/Produced in 1975 ; Barwny/Color, 95 mins. Premiera/Premiere: 27 XI 1975 , Warszawa. Nagroda na MFF w Londynie, 1976; "Syrena Warszawska" Polskiej Krytyki Filmowej, 1976; Nagroda Glowna na MFF w Panamie, 1977.