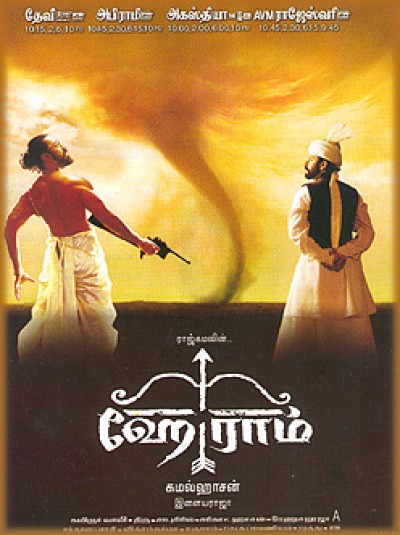 Hey Ram! (with English subtitles)
Buy now for

$34.95
We ship worldwide. Bulk and academic discounts available -- contact us for pricing.
Ships in 5 - 7 business days.
Hey Ram! was supposedly Gandhi's last words. Now, some researchers say that Gandhi never uttered those words, even though he may have intended to. Ironically, the man who shot Gandhi was a Ram, as in Nathu'Ram' Godse. In the movie, we have two other 'Rams' trying to do the same - Sri'Ram' Abhyankar and Saket 'Ram'. Gandhi is not shown uttering Hey Ram! before his death in this movie. So, the title's significance is open to interpretation and discussion, as is the rest of the movie.
Hey Ram is a commentary on the sad, uncertain and violent times we live in. Kamal Hassan pulls out all the stops in this strange, twisted and fantastic ode to non-violence and almost succeeds in pulling it off. The story is told on two levels. On a simple plane, it's a simple tale of vendetta, misguided trust and redemption. When one digs deeper, almost every character, event or scene is a metaphor and even the dialogues are a literary ploy to draw a simile to modern day events. Kamal obviously intended to make the events that occur 50 years ago, relevant in this day and age. It's perhaps his way of reminding young audiences unfamiliar or far detached from our Independence struggle to uphold the sacrifices made by Gandhi and others and to learn from past mistakes. As he has said in interviews, this movie does not attempt to repair the damages caused, but only remind us that it can happen again. And the movie takes its own sweet time in delivering its message, and even though the end justifies the means, one is not so sure if it will reach the audience the way the filmmakers intended.
The story begins in present day Chennai (Madras), with Saket Ram (Kamal Hassan) at his deathbed being attended to by his grandson, also named Saket (Kamal's nephew Gautham) and his doctor-friend, Munnu (Abbas). The story is told in a series of long flash-backs beginning with a dig in Mohenjadaro with his Muslim friend Amjad, (admirably played by Shah Rukh Khan) for an Englishman, Mortimer Wheeler. These are happier times for Saket, who sings about Hindu Muslim unity and Babar and Ram (interestingly enough - a half a century before Babar rose into prominence, due to the Babri Masjid controversy - which too came about due to an archaeological dig!) with Amjad and Lalwani (played by Saurabh Shukla) unaware of the trouble brewing ahead of them. Saket soon returns to his wife, Aparna in Calcutta (played by the delectable Rani Mukherjee). Their reunion is disrupted abruptly and violenty by the riots in Calcutta. Aparna is violently gang-raped and slaughtered by Altaf, his once-trustworthy Muslim tailor and his friends with Saket himself almost sodomized. In as much as the Tamil cinema audience is desensitized to a witnessing a rape on the screen, here, in a scene that plays out for maximum shock value, you feel the audience shudder as Saket is pinned to the piano by one of Altaf's aides. It takes great guts to pull off a scene like that, kudos to Kamal. Saket goes on a rampage following this incident which only stops as he witnesses a blind Muslim orphan girl and realizes that she is as helpless as he is, and perhaps only luckier in that she's blind to the atrocities around her. As he tethers on the edge of insanity, enters Ram Abhyankar, a Tanjavur Marat, brilliantly played by Atul Kulkarni, who plants the first seed of mistrust in Saket, sensing his helplessness and vulnerability.
The scene shifts to Sri Valli Puttur and Saket's re-marriage to Mythili (played to perfection by Vasundhara Das), in compliance with his elder's wishes. This provides some much-needed lighter moments in the movie, and for a moment, threatens to become one of those screwball Crazy Mohan-Kamal comedies. When Mythili realizes where Saket's true love lies, she aims to work her way into his heart - and proposes that they be friends, much like Andal, also of Sri Valli Puttur. Kamal and Vasundhara revel in these scenes, and the supporting cast that includes Hema Malini (a surprise appearence), Girish Karnad, Sowcar Janaki, Raghavan, Vaalee, Y.G. Mahendaran and Vyapuri all liven up the proceedings.
Unfortunately, the events of that fateful night in Calcutta, come back to haunt Saket. Unable to handle the trauma, Saket 'escapes' to Calcutta, to relive his past with Aparna. A chance encounter with Ram Abhyanker, who capitalizes on Saket's weak mind, leads him to join Abhyankar and a Maharajah who plan to 'save the soul of India, by killing the Mahatma'. Saket renounces his family as he prepares for an assassination bid on Gandhi-ji The scene shifts to Delhi where Gandhi (guess who?? Yes, it's Naseeruddin Shah) is resting at the Birla Residence. Saket loses his weapon (a Mauseur Pistol) and his search leads him to a Muslim colony in Old Delhi, where he meets Amjad, his Muslim friend and his family who are in hiding in an old Soda factory. Amjad, now a Gandhian, tries to relate the Muslim point of view, but to no avail. This is perhaps the weakest section of the movie, something that needed more attention. Meanwhile, tipped off, the local Hindus mount an assault on the colony, and in the ensuing tussle, Amjad is badly injured and subsequently dies. This is the only part where we get to see the Muslim point of view, and its suffers from the distraction of a prolonged stand-off in the soda factory. Finally, it takes another death - Amjad's sacrifice converts Saket into realizing his folly and Saket rushes to confess to Gandhi, on the same day that Nathuram Godse assassinates the Mahatma.
Kamal Hassan is brilliant in the scenes where the events of Calcutta come back to haunt him. The supporting cast is stellar and plentiful, but not everyone gets enough screen time. Even Om Puri and Nasser are mere window dressings in this display, where there is only one mannequin - Kamal. It's not so much a director's movie, as it is an actor's movie. Much has been said and written about the violence in Hey Ram!. This reviewer feels that the depiction of the rape, the riots and the gruesome killings were all warranted and necessary to make a statement. It is the anti-thesis of what Kamal was trying to say, and it was a case of proving a theorem by making a case for the contrary. Many people don't realize the impact of the partition on India, especially us, South Indians. Perhaps the movie's greatest mistake is that it tries too much. The movie is gripping, but not 'taut' for precisely the same reason.
The technical stuff is excellent. The set designs and costumes are worthy of a period piece and the attention to detail is brilliant. Sarika, Kamal's 'research-assistant' has surely done her homework. Hey Ram! demands multiple viewing to appreciate the amount of hard work and preparation gone into the production. Illaiyaraja's sound track is just right - you don't even notice it, but it draws you in - especially Aparna's theme and the way the Lavani number turns into a semi-western classical piece. Raja captures the mood of the film without resorting to heroics. Excellent, restrained effort from Raja.