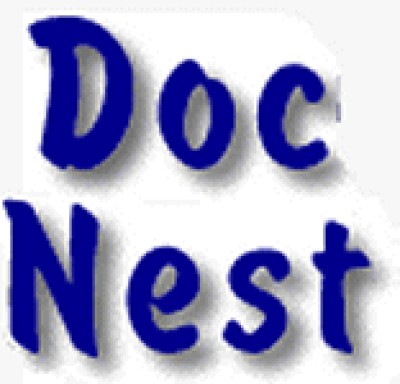 Hebrew OCR DocNest (Requires Hebrew Windows)
Buy now for

$209.00

(regularly $295.95)

We ship worldwide. Bulk and academic discounts available -- contact us for pricing.
Availability: unknown
Graph and chart digitizing, Scanned documents management, Hebrew OCR (Optical Character Recognition)
DocNest is a document management , storage and retrieval software - Paperless Office. DocNest software exists in 3 versions:

single user - DocNest/32,
network - DocNest/N
laptop- DocNest/F.

General Description:
Simple, yet powerful, intuitive user interface
Scanning single- or multi-page documents
Automatic archiving of scanned images in compressed form user defined hierarchy of folders
Unlimited number of keywords for subsequent search and retrieval
True database engine with very fast search and retrieval even within thousands of documents
Full page document viewing
Any type of files can be archived
It is possible to add "sticky" notes and colored tips and personal comments to important parts of scanned document
Easy upgrade to Network version with business growth

Documents can be scanned directly into DocNest database by any kind opf scanner (TWAIN compatible). The document image is automatically stored in compressed form consuming about 3 - 10 % of original size.Average black and white A4 printed page scanned in 300dpi will take about 30KB instead of about 0.9 MB. Graphics files in about 30 formats can be easily imported into DocNest.
Text files in various formats such as txt, doc, pdf can be imported from any word processor. Web pages can be archived for convenient offline retrieval and reading. In case of multiple page documents you can set up "stacks" of unlimited number of pages. Viewing of documents is helped by a range of such functions as invert, zoom in and zoom out, rotate, crop etc. By Drag and Drop you easily move/copy documents from folder to folder.
You can attach various characteristics, such as title, author's name, keywords, comments, date etc. to each document. New keywords are automatically added to keyword dictionary and can be easily used in working with subsequent documents. Of course, keywords of each document can be changed and deleted. With help of these characteristics you can easily find each document (or group of them) stored in data base of DocNest. In case of multiple keywords in a condition the search is performed according to Boolean logic. To reduce number of documents found a subsequent search can be performed on the results of previous search.
Fast retrieval of documents is performed by viewing contents of each folder through thumbnails (in DeskView) or through enlarged PageView of each document. To get a copy of document DocNest can print or fax it directly from the program. An unlimited number of new applications can be defined on an application toolbar of DocNest and any file can be connected to appropriate program through Drag_and_Drop.






Categories: OCR, Software - Windows
Supporting language: Hebrew
Platforms/media types: Windows, Windows 95/98, CD-Rom
Specifications: DocNest program can run on any IBM-compatible PC computer with : Pentium CPU At least 4MB of RAM Hebrew Windows 95/98 or WFW Free disc space of at least 4MB

For instance, you can define:

image processing software (e.g.CorelDraw) and send to it a document containing pictures for editing
OCR (Optical Character Recognition) program
Microsoft InternetExplorer
Excel(or other spreadsheet program)
software for voice messages or music

DocNest/N - document imaging and archival software for entire office! All the advantages of DocNest/32 (see description above) for Network environment. All Network workers use simultaneously common database of scanned and electronic documents.
DocNest/F - off-line version of document archival software developed especially for laptop computers. DocNest/F is able to transfer only the essential documents from the main database (usually on the server) to the laptop. Documents can be updated on the laptop and later can be returned and synchronized with the main database.