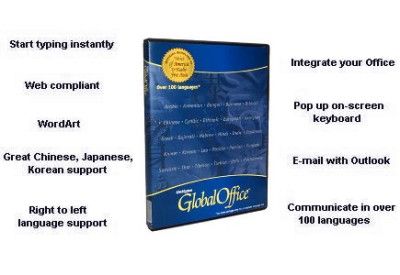 GlobalOffice 3.20
Buy now for

$289.95

We ship worldwide. Bulk and academic discounts available -- contact us for pricing.
Ships in 5 - 7 business days.
Unitype Global OfficeTM is an enhancement to Microsoft Office that adds text entry and visual keyboard display in over 100 different languages to these Microsoft products: Word, Outlook, Excel, PowerPoint. It is easy to use, yet powerful enough to support the most demanding tasks of businesses, translation professionals*, and academics worldwide.
Best of all, everything you need is on one CD-ROM.
Global Office does not automatically translate. You must know the language that you are typing. But you do not need to learn a new keyboard layout because we include special phonetic keyboards for each language based on US, French or German standard keyboards. We also include standard Windows based non-phonetic keyboards for those who prefer them.

Start typing instantly
Text entry and visual keyboard display are started by clicking on the Unitype Button.

Chinese, Japanese, and Korean support
Global Office lets you easily type in Japanese, Chinese, Korean and more.

Right-to-Left support
Type left-to-right or right-to-left automatically, depending on the language. For Arabic scripts, contextual forms are handled automatically. Right-to-left support is targeted towards users that need a limited amount of right-to-left text embedded into left-to-right documents or for users needing right-to-left language support in Excel, PowerPoint or Outlook. For users needing to write large right-to-left documents, we recommend Global Writer.

Pop Up On Screen Keyboard
Pop -up language keyboard gives you the option to type in your own language phonetically, without learning a new keyboard layout. You do not need to learn a new keyboard layout because we include special phonetic keyboards for each language based on US, French, and German phonetic keyboards. We also include standard Windows based non-phonetic keyboards for those that prefer them. Email Support
Easily send and receive multi-lingual e-mail with Microsoft® Outlook. Works with Microsoft supported languages; non-Microsoft supported languages require that the receiver also have a copy of Global Office. Integrate your Office
Access Global Office functions from the Unitype Button on the Microsoft Windows menu bar. Global Office actually becomes an integral part of Microsoft® Office.

Web Compliant
Create Web content in Microsoft Internet Explorer supported languages from Microsoft Word. Adherence to standards and HTML support make Global Office the ideal tool for global web site development, as well as global communications.

Word Art
For artists or those just wanting to have fun. Global Office supports WordArt for creating beautiful lettering styles such as 3-D, in supported languages.

Communicate easily in more than 100 languages!

Africa: Amharic, Hausa, Swahili, Tigrinyan

Arabic script: Arabic, Dari, Farsi, Kurdish, Pashto, Persian, Urdu, Uyghur

Chinese: Simplified (Pinyin, Cantonese, and Wubi input methods) and Traditional (Pinyin, Changjie, and Zhuyin input methods)

Cyrillic script: Azerbaijani, Belorussian, Bulgarian, Croatian, Kazakh, Kirgiz, Macedonian, Russian, Serbian, Ukrainian, Uzbek

European: Albanian, Creole, Czech, Danish, Dutch, English, Estonian, Finnish, French, German, Greek (Modern), Hungarian, Icelandic, Italian, Latvian, Lithuanian, Norwegian, Polish, Portuguese, Romanian, Slovak, Slovenian, Spanish, Swedish, Turkish, and Yiddish

Indic (North): Hindi, Marathi, Nepali, Sanskrit, Punjabi, Gujarati, Bengali, Assamese

Indic (South): Tamil, Telugu, Maldivian, Kanarese, Malayalam, Sinhalese

Japanese: Roma-Kanji, Kana-Kanji

Korean: Hangul, Hanja

SE Asian: Burmese, Khmer, Lao, Thai, Vietnamese

Biblical and Academic:< Aramaic, Church Slavonic, Coptic, Ge'ez, Glagolitic, Greek (Traditional), Hebrew, Moabite, Nabataean, Phoenician, South Arabian, Syriac (East, West, Estrangelo), Ugaritic, IPA (International Phonetic Alphabet), Latin Transliteration

Other: Armenian, Georgian, Inuktitut, Tibetan




Categories: E-mail, Fonts, Software - Windows, System, Word Processing
Supporting languages: Albanian, Amharic, Arabic, Aramaic, Armenian, Assamese, Azerbaijani, Belorussian, Bengali, Bulgarian, Burmese, Chinese, Creole, Croatian, Czech, Danish, Dari, Dutch, English, Estonian, Farsi (Persian), Finnish, French, Georgian, German, Greek (Modern), Gujarati, Hausa, Hebrew, Hindi, Hungarian, Icelandic, Inuktitut, IPA, Italian, Japanese, Kanarese, Kazakh, Khmer (Cambodian), Kirgiz (Kirghiz), Korean, Kurdish, Lao, Latvian, Lithuanian, Macedonian, Malayalam, Maldivian, Marathi, Moabite, Nabataean, Nepali, Norwegian, Pashto, Persian (Farsi), Polish, Portuguese, Punjabi, Romanian, Russian, Sanskrit, Serbian, Sinhalese, Slovak, Slovenian, Spanish, Swahili, Swedish, Syriac, Tamil, Telugu, Thai, Tibetan, Tigrini - See Tigrinya, Turkish, Ukrainian, Urdu, Uyghur, Uzbek, Vietnamese, Yiddish
Platforms/media types: Windows 95/98, Windows NT, Windows XP, Windows 2000, Windows Vista
Specifications: Global Office System Requirements:

Microsoft Windows 95, 98, NT4, 2000, XP or Vista
Microsoft Office 97, 2000, XP, or 2003
12 MB RAM
CD ROM Drive
Hard disk space: 10-35 MB, depending on which languages are installed. Chinese, Japanese,and Korean languages additionally require about 25 MB each.

Sample 1





Sample 2





Sample 3





Sample 4





Sample 5