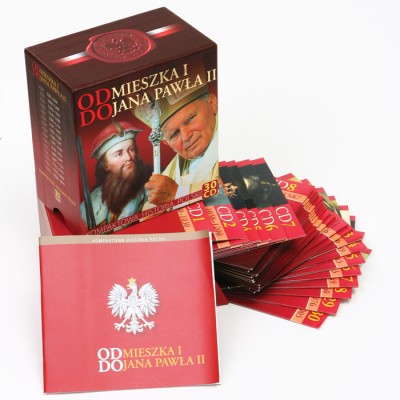 From Mieszko I to John Pual II. History of Poland on 30 CDs(Compact Di
Buy now for

$199.95
We ship worldwide. Bulk and academic discounts available -- contact us for pricing.
Ships in 3 - 5 business days.
IN POLISH, there is no English narration version available
A set of thirty (30) compact discs discusses the history of Poland in about 2,000 minutes in a lively and interesting way provided by prominent historians of Universities of Warsaw, Torun, Bialystok and the Institue of History of the Polish Academy of Sciences (professors Wojciech Falkowski, Teresa Chyczeska-Hennel, Jacek Staszewski, Andrzej Szwarc, Pawel Wieczorkiewicz, Jerzy Eisler).
Every comment is supported by carefully selected document extracts, chronicles, literature. Moreover, real recorded voices of Jozef Pilsudski, Ignacy Paderewski, Wladyslaw Sikorski and others are included in the set. Each historical description constitutes a logical and chronologically coherent entity which makes learning easier. The set is a perfect help for students, readers interested in Polish history and those willing to get acquainted with it. Moreover, it is time saving.
Each compact disc is packed in a seperate cardboard case. The set is provided with a forty-page booklet describing in detail its contents.



Category:
Historical
Supporting language:
Polish
Platforms/media types: Audio CD
Zestaw 30 plyt CD zawierajacych dzieje naszego panstwa (ok. 2000 minut) prezentowanych w zywy i atrakcyjny sposob przez wybitnych naukowcow-historykow zwiazanych z uniwersytetami: warszawskim, torunskim, bialostockim i Instytutem Historii PAN (prof. Wojciech Falkowski, prof. Teresa Chyczewska-Hennel, prof. Jacek Staszewski, prof. Andrzej Szwarc, prof. Pawel Wieczorkiewicz, prof. Jerzy Eisler). Kazda z wypowiedzi zostala zilustrowana starannie dobranymi fragmentami dokumentow, kronik, pamietnikow, literatury pieknej, jak rowniez oryginalnymi nagraniami glosow Jozefa Pilsudskiego, Ignacego Paderewskiego, Wladyslawa Sikorskiego i innych. Wszystkie wypowiedzi naukowcow ukladaja sie w logiczna, uporzadkowana chronologicznie calosc, co decyduje o poznawczym, popularyzatorskim charakterze dziela. Komplet stanowi znakomity material edukacyjny tak dla uczni=w jak i dla os=b szczegolnie zainteresowanych historia, pragnacych rozwijac swoja wiedze z tego zakresu, a jednoczesnie nie majacych czasu na lekture. Kazda z plyt jest w odrebnym indywidualnym opakowaniu kartonowym. Do publikacji jest dolaczona 40-stronicowa ksiazeczka szczeg=lowo opisujaca zawartosc.