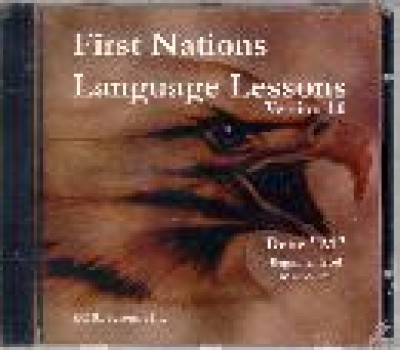 First Nations Dene "M" Language Lessons Beginner Level (CD-ROM_
Buy now for

$39.95

(regularly $49.95)


We ship worldwide. Bulk and academic discounts available -- contact us for pricing.


In Stock. Ships within 2 business days.




First Nations Language Lessons: Dene "M" Dialect is an interactive language resource designed for the beginner level by OBI Systems of Saskatchewan. The CD-ROM contains 11 units including: Alphabet introduces the sounds for the vowels and consonants; Numbers has 7 lessons; Colors introduce the terms for 8 colors; Calendar covers the words for the seasons, days, months; My body and the clothes I wear; Creatures introduce animals from the land and water; My family; Foods; Household objects introduce the objects found in various rooms of any modern home; Story time contains three stories written in English with the audio in Dene "M"; and Common phrases contains basic commands a teacher uses in a classroom. The Dene "M" translator and validator was Mary Jane Kasyon. Navigation and the written instructions are easy making the CD suitable for young students who have a basic reading level. The CD is designed for anyone just beginning to speak and write Dene "M" and contains a 400-word vocabulary. Each unit contains activities that introduce each word in spoken and written formats. Reinforcement activities test the student's knowledge and comprehension. A Teacher's Manual is available separately. A network version for classroom use is also available. Mac and PC formats.