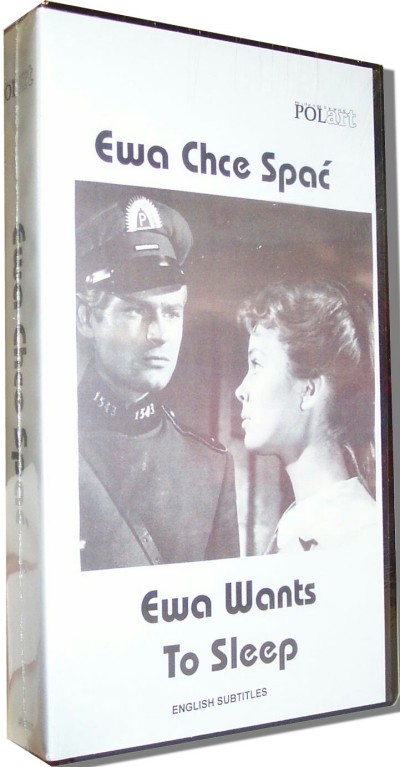 Eve Wants to Sleep (Ewa Chce Spac)
Buy now for

$34.95

We ship worldwide. Bulk and academic discounts available -- contact us for pricing.


Ships within 3 business days.




A young woman finds her attempts to secure lodging in the big city frustrated at every turn. The state bureaucracy and the police are the chief culprits. This light comedy was considered quite daring in its time as it is critical of the Polish state. With Barbara Kwiatkowska, Stanislaw Mikulski and Ludwik Benoit. Polish with NO subtitles.

Film jest komediowym rozwinieciem banalnej sytuacji: mloda, naiwna dziewczyna poszukuje noclegu, poniewaz nie zostala wpuszczona do szkoly dzien przed rozpoczeciem zajec. Chodzac uliczkami przedziwnego miasteczka, poznaje sympatycznego policjanta Piotra, jego kolegow z komisariatu i cala plejade zwariowanych, groteskowych postaci. Miasteczkowa spolecznosc w przewazajacej czesci sklada sie z niebieskich ptaszkow, zyjacych w najlepszej komitywie z policjantami. Nastapilo tu calkowite odwrocenie rol: zlodzieje maja wlasna akademie doskonalenia zawodowego, policjanci zas najchetniej spedzaja czas w zacisznych, bezpiecznych komisariatach, uczac sie... gry na flecie, by wywabiac przestepcow z ich melin, prostytutki natomiast robia na drutach, oczekujac na klientow. Inteligentna komedia kompilacyjna czerpiaca ze wszystkich odmian tego gatunku: od gagowej burleski po "sophisticated comedy". Ale film nie odbiegal od polskich realiow glownie w warstwie dialogowej oraz poprzez nawiazanie do tradycji polskiej satyry. Debiut Chmielewskiego byl od czasow Zlota drugim sukcesem komercyjnym i artystycznym polskiej komedii.

Rezyseria/Director: Tadeusz Chmielewski ; Scenarius/Screenplay: Tadeusz Chmielewski , Andrzej Czekalski ; Zdjecia/Photography: Stefan Matyjaszkiewicz ; Muzyka/Music: Henryk Czyz ; Scenografia/Scenography: Roman Mann ;

Obsada/Cast: Barbara Kwiatkowska (Ewa), Stanislaw Mikulski (policjant Piotr), Ludwik Benoit (kasiarz), Zygmunt Zintel (inspektor), Maria Kaniewska (bufetowa Helutka), Stefan Bartik (komisarz), Roman Klosowski (Lulek), Waclaw Kowalski (rusznikarz), Gustaw Lutkiewicz (uczen), Stanislaw Milski (Fafula), Jarema Stepowski , Edward Wichura , Henryk Kluba , Bronislaw Pawlik , Kalina Jedrusik , Jan Kobuszewski . Produkcja/Produced by: Wieslaw Mincer , Zespol " Syrena ", WFF Lodz , Rok produkcji/Produced in 1957 , Czarno-bialy/B&W, 97 mins. Premiera/Premiere: 7 III 1958 , Warszawa. "Zlota Muszla" na MFF w San Sebastian, 1958.

By Tadeusz Chmielewski. 1958, black & white. 97 mins.