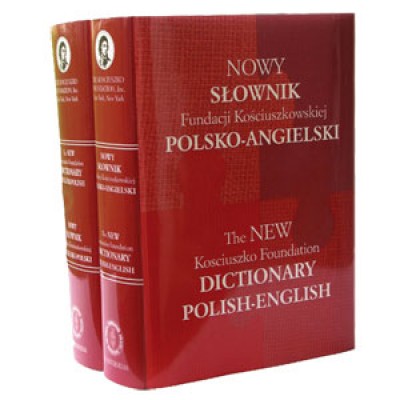 English to and from Polish Kosciuszko Foundation Dictionary (Book & CD-ROM)
Buy now for

$199.00

We ship worldwide. Bulk and academic discounts available -- contact us for pricing.


Ships in 3 - 5 business days.




THE NEW ENGLISH-POLISH, POLISH-ENGLISH KOSCIUSZKO FOUNDATION DICTIONARY Volumes 1 and 2

The New Kosciuszko Foundation Dictionary has been compiled by a team of lexicographers at Poznan's Adam Mickiewicz University. The editor-in-chief of the 20-strong team is Professor Jacek Fisiak, founder of the Poznan school of English Studies, a teacher of many generations of English scholars, editor of international linguistic and philological journals, author and editor of over 150 publications, including six English-Polish and Polish-English dictionaries. Vol. 1 - 1780 pages., Vol. 2 - 1300 pages. + CD-ROM with entire dictionary

first ever bilingual dictionary of American English
contains over 140.000 entries, 400.000 meanings and 100.000 idioms and fixed phrases;
gives specific British as well as Australian, Canadian, New Zealand and South-African usage;
contains abundant technical and specialized vocabulary in such areas as law, economy, computers, the military, medicine, mass media, sports, botany and zoology;
provides literary and colloquial expressions, slang, archaic words, idioms and fixed phrases;
presents use of words in context illustrated by a large number of original sentences.

The New Kosciuszko Foundation Dictionary on CD-ROM contains: - all the entries from both the volumes; - grammatical information; - phonetic transcription; lets the user: - select the language of messages; - make word searches; - copy entries straight into documents; - make extended full-text searches; - keep track of previuos searches; - access the dictionary from within other applications; - add new entries to the dictionary or delete the existing ones.




Category: Dictionary
Supporting language: Polish
Platforms/media types: Windows 95/98, Windows NT, Windows XP, Printed Matter, Windows 2000, Windows ME
Specifications: system requirements: - Pentium class or higher processor; - Windows 95, 98, NT, 2000, Me, or XP; - CD-ROM drive; - 32 MB RAM.