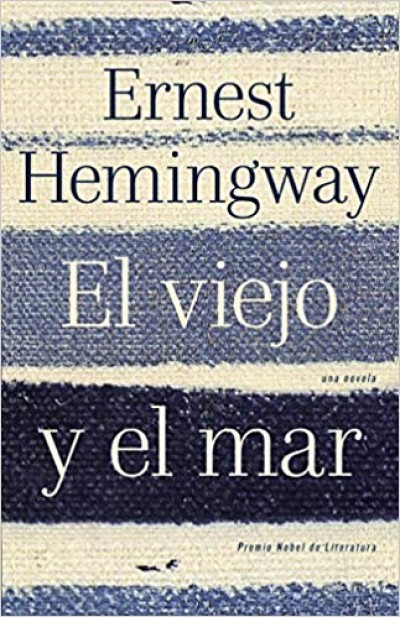 El viejo y el mar in Spanish Paperback
Buy now for

$24.95

We ship worldwide. Bulk and academic discounts available -- contact us for pricing.


Ships within 3 business days.




El viejo y el mar (Spanish Edition) (Spanish) Paperback – July 12, 2011 by Ernest Hemingway (Author)

En Cuba, un viejo pescador ya en el crepúsculo de su vida, pobre y sin suerte, cansado de regresar cada día sin pesca, emprende una última y arriesgada travesía en busca de una gran pieza. Cuando al fin logra dar con ella, comienza una feroz lucha. Y el regreso a puerto, con el acoso de los elementos y los tiburones, se convierte en una última prueba. Como un rey mendigo, coronado por su imbatible dignidad, el viejo pescador culmina finalmente su destino. En la cúspide de su maestría, Hemingway alumbró una historia en cuya sencillez vibra el clásico tema del valor ante la derrota, del triunfo personal sacado de la pérdida. El viejo y el mar lo confirmó como uno de los escritores más significativos del siglo XX, obteniendo el Premio Pulitzer y allanando su carrera hacia el Premio Nobel.




Product ID: 505491 ISBN-10: 0307475859

About the Author Ernest Hemingway, nacido en 1899 en Illinois, es una de las principales figuras de la mitología de la primera parte del siglo xx, no sólo gracias a su obra literaria sino también a la leyenda que se formó en torno a su azarosa vida y a su trágica muerte. Hombre aventurero y amante del riesgo, a los diecinueve años se enroló en la Primera Guerra Mundial como miembro de la Cruz Roja. Participó en la guerra civil española y otros conflictos bélicos en calidad de corresponsal. Estas experiencias, así como sus viajes por África, se reflejan en varias de sus obras. En la década de los años veinte se instaló en París, donde conoció los ambientes literarios de vanguardia. Más tarde vivió también en lugares retirados de Cuba o Estados Unidos, donde pudo no sólo escribir sino también dedicarse a una de sus grandes aficiones, un tema recurrente en su producción literaria: la pesca. En 1954 obtuvo el Premio Nobel. Siete años más tarde, sumido en una profunda depresión, se quitó la vida. Entre sus novelas destacan Adiós a las armas, Por quién doblan las campanas y Fiesta. A raíz de un encargo de la revista Life escribió El viejo y el mar, por la que recibió el Premio Pulitzer.