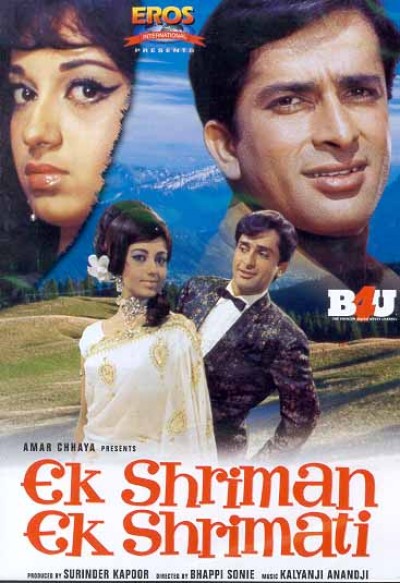 Ek Shriman Ek Shrimati
Buy now for

$19.95
We ship worldwide. Bulk and academic discounts available -- contact us for pricing.
Ships in 5 - 7 business days.
Pritam (Shashi Kapoor), loving and adoring Deepali (Babita), beautiful and rich heirless; and Ajit (Perm Chopra), the slick and slimy playboy with an eye always on beautiful bodies and big bank rolls. Pritam loves Deepali deep and true, but Deepail feels she is in love with Aajit. In a week moment of her failure and frustration, Ajit has talked his way into Deepali's rich and eccentric uncle (Om Prakash who sees through Ajit and hates him for what he is. Through a clever ruse, the uncle exposes the scheming Ajit and his slimy dirtiness. Deepali spurns Ajit and turns to Pritam who, she realises, loves her truly. Pritam and Deepli are both very happy. Life looks like a long bright reality together. But, they say, the course of true love never runs smooth. When the cherished goal of love and fulfilment is within their reach, Priitam and Deepali are sundered by vengeful Ajit. This time the scheming playboy cannot be exposed instead he has exposed horrifying facts about Pritam's real parenthood. And then, as if often happens when all see lost and gone, the black clouds that had darker their lives and love pass over. Once again the sky is clear and bright and once againthe lovers meet to part again. The are united in wedlock-Pritam and Deepali.